Kusan Atomic Train (1957-1960)
The Kusan KF-110 Atomic Train (0 gauge) was the first toy train to have an "atomic theme." It was produced between 1957 and 1960 by Kusan-Auburn of Franklin, Tennessee. Kusan-Auburn was a subsidiary of Kusan, a plastics manufacturer. The company described it as "An exciting new train with extra play value in each unit."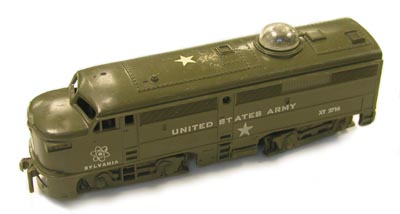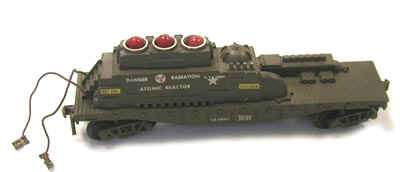 This was Kusan's first toy train and its introduction was the subject of an article in the June 29, 1957 issue of Business Week.
After the initial success of the Atomic Train, Kusan produced a couple of other toy trains, but the competition from Lionel became too great and Kusan got out of the toy train business in 1960.


Another neat thing about the Kusan train was that it ran on realistic-looking two rail track (not shown) rather than the more common three rail track.
I have seen two retail prices for the train set: $39.95 and $44.95. At least one retailer, Ernie Television of Syracuse New York, gave a free Kusan atomic train (a "$59.95 value") as a "Special Christmas Offer" to everyone who purchased a Sylvania Slimline TV. The promotion indicated that the Atomic train was a "Winner of Top 10 Mechanical Toys for 1957."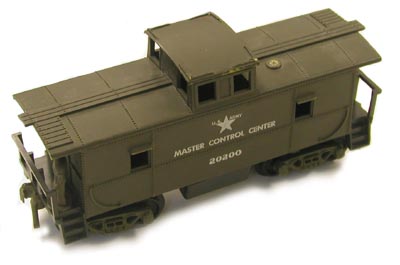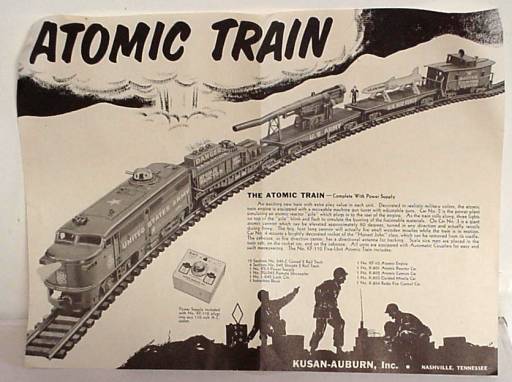 Generously donated by Steven Woolfolk.
References
Lubenau, J., Horner, J. Atomic Toy Trains. Train Collectors Quarterly. Vol. 45, No. 3; July 1999.
Kusan-Auburn. Atomic Train advertising flyer. No date.