Early Kesselring Cold Cathode Tube (1900-1910)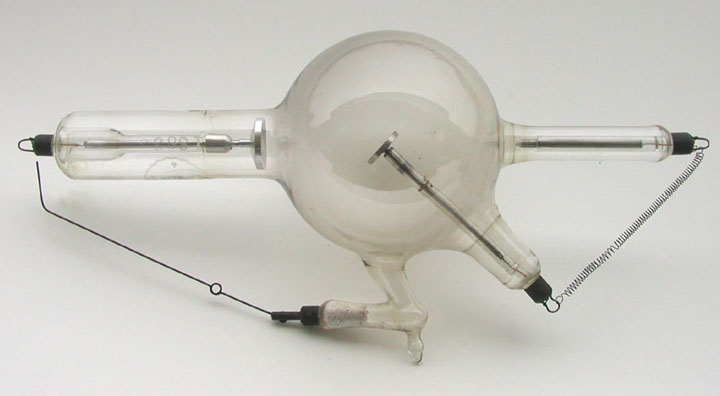 Manufactured by the Kesselring X-ray Tube Co. of Chicago Illinois, this bi-anode tube is of a fairly standard design. There is nothing unusual about it.
The aluminum cathode is enclosed by the glass arm attached to the left side of the spherical bulb (as seen in the photo). More precisely, it is located just inside the arm where the latter is attached to the bulb. The manufacture's name and the serial number of the tube (18833) are etched on the glass.
You can see the anode (an aluminum rod) inside the glass arm extending from the right side of the bulb.
The anticathode, partially enclosed by the short glass arm attached to the lower right side of the bulb, enters the tube at a 45 degree angle. The target, almost exactly in the center of the bulb, is the circular platinum disk at the free end of the anticathode. Because the mass of the target is so small, this is known as a "light anode" tube.
Kesselring X-ray was founded by Hermann M. Kesselring, but I do not know exactly when. They were a small manufacturer that at various times employed the following addresses in the Chicago area: 136 W. Lake Street, 652 W. Lake Street, and 204 N Desplaines Street. Their operations continued at least until 1921.
Size: Approximately 14" long with 5" bulb diameter