Brain Probe (ca. early 1950s)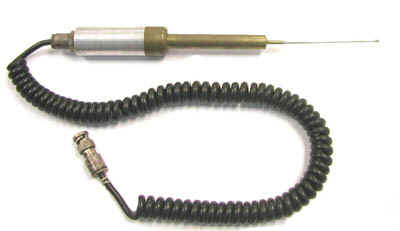 This GM detector was originally designed as a brain probe to determine the precise location of radiopharmaceuticals in the brain.
In the mid 1950s it was adapted at Hanford for use as a wound probe. It was used by one of the General Electric physicians, a Dr. Brockman, who was assigned to the plutonium areas.
The overall length of the probe is approximately 11 inches. The "handle" is an aluminum and brass cylinder 3" long and 1" in diameter. The brass central barrel of the probe is 3" long and 0.5" in diameter. The probe proper is 4" long, 2 mm in diameter and made of steel. The active portion of the probe, located just behind the tip, is amazingly small, ca. 1 cm long and 1 to 2 mm in diameter. 
Kindly donated by Ron Kathren.