Pancake/End-Window Hybrid GM (ca. 1980s)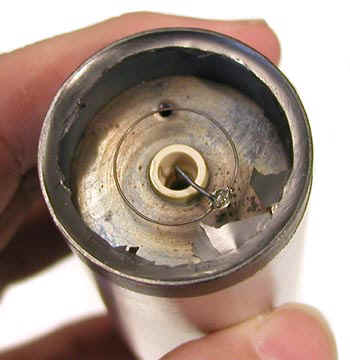 In essence, this interesting tube is an end-window GM that has been constructed by attaching a small pancake GM to the body of an end-window GM.
As can be seen in the photo at right, the window has been broken. This is a bit of good luck because it reveals the circular anode typical of pancake GM tubes.
The beauty of "marrying" a pancake GM to an end window GM is that you get the same beta detection efficiency as the standard end window, but the gamma background is lower and the dead time is shorter. There is no free lunch—this detector is going to cost more than a standard pancake or end-window GM.
There are no markings of any type on this tube, but it has the appearance of being manufactured by LND.

Donated by Oak Ridge National Laboratory.