RCL Mark 1 Model 81 Dipping Counter (1955)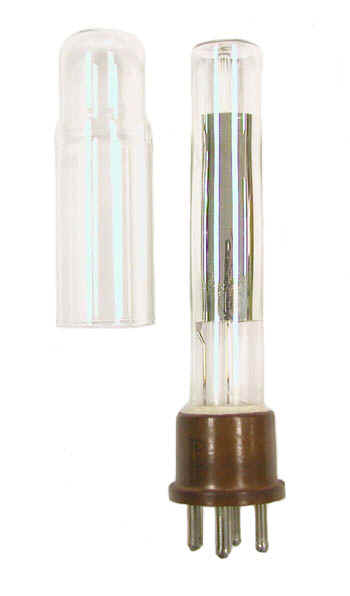 This Model 1 Mark 81 GM tube was manufactured by Radiation Counter Laboratories of Skokie, Illinois, and it came with a Certificate of Examination dated 7-15-55. The number 7-55, which appears on the tube base (underneath the letters RCL), almost certainly refer to the date of production.
The tube came with the matching sample cup seen on the left side of the photograph. The cup would be partially filled with the solution to be analyzed and the end of the tube would be inserted into the cup. Notice how the cup narrows at the end—this corresponds to the insensitive top section of the GM tube. The bulk of the sample would be in the wide portion of the sample cup which would surround the sensitive region of the tube (along the silver cathode).
Size: 4 1/2" long, 3/4" diameter
Quench gas: Organic
Wall: Glass, thickness 30 mg/cm²
Cathode: Inner surface of glass wall coated with silver, 2" in length
Operating voltage: 1050 to 1250 volts
Donated by the University of Kansas, courtesy of Michael Lemon.
Reference
Atomic Energy Commission Supplement 2 for the Radiation Measuring Instruments catalog RIB-8, July 1, 1954, page BG-2A28A.