RCL Mark 1 Model 11X GM Tubes (ca. early 1950s)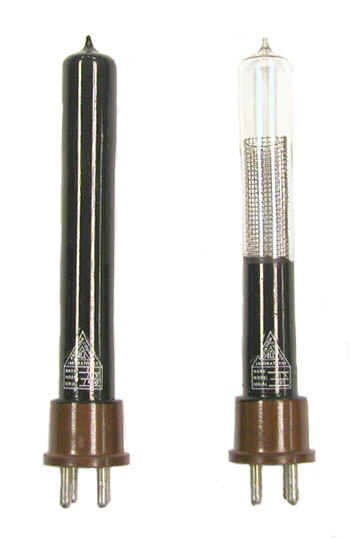 The Radiation Counter Laboratories Mark 1 Model 11 is a glass walled GM tube probably manufactured in the early 1950s. While the Model 11 is described in the Atomic Energy Commission Radiation Instrument Catalog, I have not yet found any literature describing the Model 11X. There is one obvious difference between the two: the Model 11 employed a silver coating on the inside of the glass as the cathode, while the Model 11X used a wire screen. The purpose of the screen would be to increase the tubes efficiency for gamma rays. As such, I suspect the "X" in the Model designation refers to extended. There is a similar relationship between the RCL Mark 1 Models 3 and 3X in the collection.
Such a tube would primarily be employed in survey instruments.
Size: 6" long, 3/4" diameter
Wall: Glass, 300 mg/cm²
Cathode: Stainless steel screen
Operating voltage: 875-1075 volts (for the Model 11)
Gas: Neon, amyl acetate quench (for the Model 11)
Reference
AEC Radiation Instrument Catalog, page date July 1, 1950.