RCL Mark 1 Model 45 GM Tube (late 1940s, early 1950s)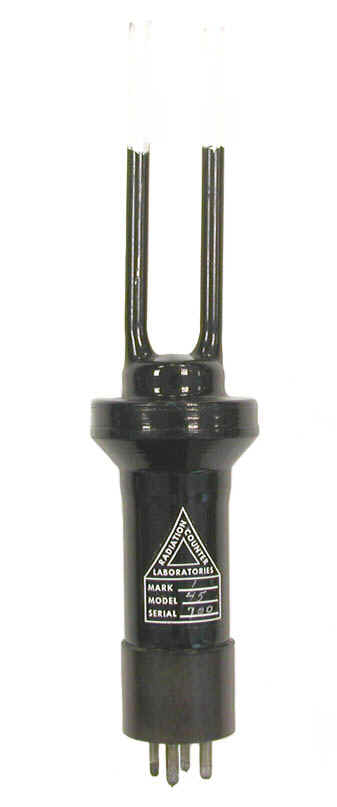 This is an example of a Mark 1 Model 45 gas analysis GM tube manufactured by Radiation Counter Laboratories of Chicago Illinois. It probably dates from the late 1940s or early 1950s.
It seems to be a version of the Mark 1 Model 3 end window GM that has been modified for counting low energy beta emitters in gas samples. The two tubes on the top of the unit would carry the gas to and from the small chamber situated over the detector's end window.
Size: 4 1/2" long (not including tubes) 2" in diameter (max)
Fill gas: Helium with ethyl acetate quench
Operating voltage: 1250-1300 volts
Cathode: Aquadag coating on inside of glass wall
Window thickness: 1.5 to 4 mg/cm²
Donated by the Ron Kathren.
References
AEC Radiation Instrument Catalog No. 3, page date July 1, 1952.
AEC Radiation Instrument Catalog, page date November 1, 1949 (Mark 1 Model 3).