RCL Mark 1 Model 5 Probe Counter (late 1940s)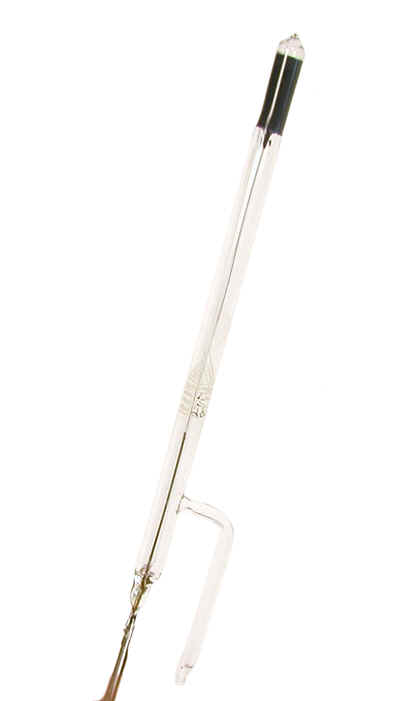 This tube, manufactured by Radiation Counter Laboratories of Chicago Illinois, is identified on the label as the Model 1 Mark 5. Unfortunately, I have no literature that refers to this particular model. Its outward appearance is identical to the Mark 1 Model 100 and so the best I can do is provide the following information for the Model 100. The Mark 1 Model 100 was described in the October 1948 issue of Nucleonics as follows: "This thin-walled probe counter has been developed for inserting into small recesses or into regions of high flux density. The diameter is 7 mm and the thin wall section is 15 mm. The gas volume extends up to the handle of the counter and a tubulation permits easy refilling."
The AEC Radiation Instrument Catalog of 1950 described the Model 100 as a "miniature thin wall Geiger counter tube suitable for internal medical studies." 
Size: 17 cm long, 7 mm diameter
Quench gas: Organic (Model 100)
Wall: Glass, thickness 30 mg/cm² (Model 100)
Cathode: Clear metallic coating (tin?)
Operating voltage: 850 volts (Model 100)
Donated by the Atomic Energy of Canada Limited at Chalk River.
References for Model 100
Atomic Energy Commission Radiation Instrument Catalog No. 2 Part 1. 1950, page BG-2A8A, page date June 1, 1949.
Nucleonics October 1948 page 83.
Nucleonics May 1952, page 89.