RCL Model 10303 (?) GM Tubes (mid 1950s)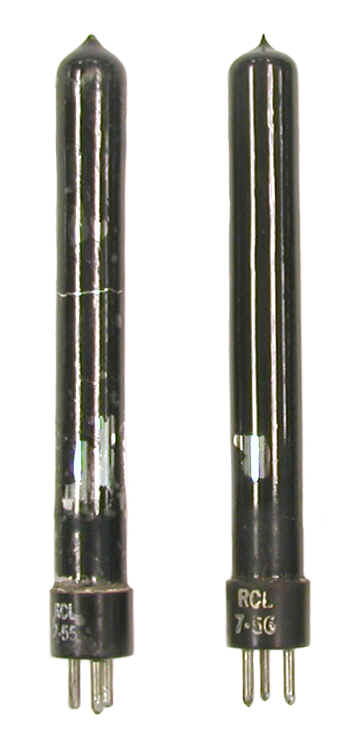 These two beta-gamma GM tubes were manufactured by Radiation Counter Laboratories of Skokie Illinois. Unfortunately, I have no hard information about them. They appear to be very similar to what became the RCL Model 10303. The latter, like these tubes, was painted black, had a three pronged base, employed a silver cathode, and was approximately 4 3/4" long and 5/8" in diameter.
The numbers that appear on the base underneath the letters RCL, 7-55 and 7-56, almost certainly refer to the dates of production
Size: 7-55 4 3/4" long, 5/8" diameter
Wall: Glass, estimated thickness 30 mg/cm²
Cathode: Inner surface of glass wall coated with silver
Operating voltage: Estimated 900 volts
Donated by Ron Kathren.
Reference
Radiation Counter Laboratories catalog, Radiation Detectors, no date. Estimated late 1950s.