Tracerlab TGC-5 GM Tube (1953)

The TGC-5, produced by Tracerlab Inc. of Boston Massachusetts, is a glass-walled GM tube designed for use with survey instruments. Tracerlab noted that the TGC-5 was also suitable for dip counting wherein the end of the tube was submersed in a solution as a means to estimate the beta activity.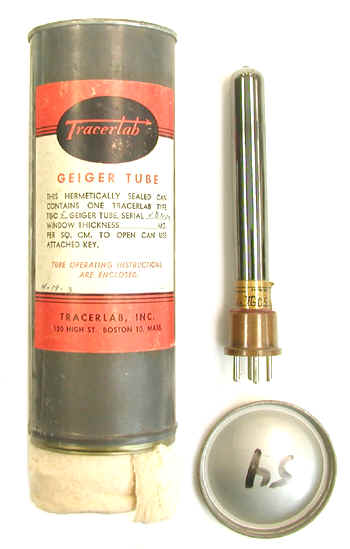 The earliest reference I have for the TGC-5 is the July 1949 issue of Nucleonics.
Size: 6" long and 0.75" inner diameter
Wall: Glass, 30 mg/cm²
Anode: Tungsten central wire
Cathode: Stainless steel coating on inside of glass wall
Operating voltage: 900 V
Plateau length: 150 volts
Fill gas: Argon with organic quenching agent
Fill gas pressure: 260 mm Hg
Dead time: ca. 90 us
Base: Four prong ceramic base
Price: $18 in 1952
The shipping container used by Tracerlab is shown to the right. When shipped by air, the pressure drop could damage the tubes. As such, the container was hermetically sealed.
The paperwork that came with the tube is dated 7-2-1953.
References
Nucleonics, July 1949, inside cover.
Nucleonics, November 1949, inside cover.
Tracerlog, No. 43, April 1952.
Tracerlog No. 45, September 1952.