Victoreen Model 1B85 Thyrode Thin Wall GM (1950s)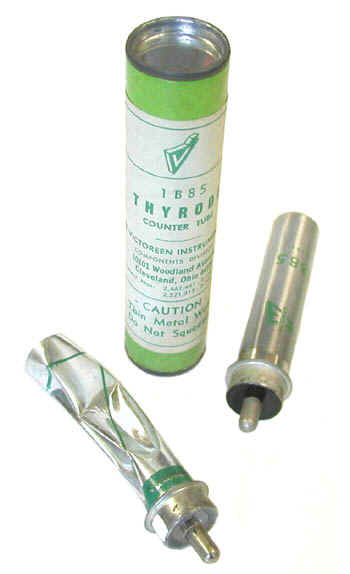 The original Victoreen 1B85 beta-gamma counting GM tube used a ribbed wall to increase its strength because the thin aluminum and the negative pressure inside made the tube prone to collapse. In 1953, Victoreen introduced a new version with smooth walls that they said could "withstand three times as much point (finger) pressure. You can dent the tube shell as much as a quarter of an inch and still obtain satisfactory operation." Its applications included "cosmic research, aerial prospecting, hand and foot monitors, laundry, area and process monitors." The photos below show the latter version of the 1B85.
Size: 4 1/8" long, 51/64" diameter
Wall: Aluminum, 30 mg/cm²
Operating voltage: 900 volts
Gas: Argon plus organic quench
Price: $7.50 in 1953
Victoreen also manufactured a very similar tube, the model 6306 that employed a bismuth cathode. The high atomic number of the bismuth resulted in a significantly improved efficiency for gamma rays.
References
AEC Radiation Instrument Catalog, page date July 1, 1949.
Nucleonics, December 1948, page 69.
Nucleonics, June 1953, page 95.
Victoreen Data sheet for 1B85.