Technical Associates Lead Shield (1947, 1948)
This is a Model LS-6 lead shield manufactured in 1947 or 1948 by Technical Associates of Glendale California. The Atomic Energy Commission (AEC) designation was the AL-14, and they described it as a "vertical lead shield for reducing beta, gamma and cosmic radiation background counts on mica window type GM tubes."
The outside is covered with brass while the inside is lined with aluminum.
The small brass tag seen in the above photo indicates that this was the eleventh piece of property to be purchased (and tagged) by the Oak Ridge Institute of Nuclear Studies. The latter is now known as Oak Ridge Associated Universities.
Size:
Outside: 12" high and 9" outer diameter
Inside: 8 1/2" high and 5 7/8" diameter
Weight: 225 lbs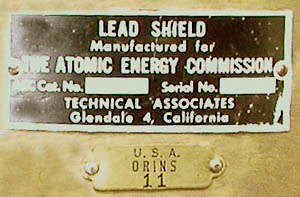 Reference
Atomic Energy Commission Radiation Instrument Catalog No. 2, Part 1, 1950, page AL-14A, page date July 1, 1950.