Miscellaneous Detectors and Equipment
Standard Chemical Company Photo Album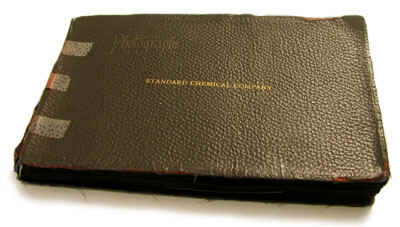 This album contains a collection of photographs relating to the operations of the Standard Chemical Company. It probably dates from 1915 to 1920.
The sequence of the photographs in the album is more or less as follows: the Paradox Valley in Colorado where the company mined its ore; the ore being taken to Placerville for shipment to Pennsylvania; the reduction mill in Canonsburg, PA; and the company offices in Pittsburgh, PA.
Click on a photo for a larger view, and in some cases additional information. As might be expected, the album is slightly contaminated with radium. You don't have to worry about that though.
Read a short history of the Standard Chemical Company.
Donated by Rutgers University courtesy of Patrick McDermott.