Lionel Model 455 Binary Scaler-Ratemeter (1963-1965)
Quoting a product notice in the February 1963 issue of Nucleonics: "A new combination ratemeter and scaler combines the advantages of both instruments in one chasis. The scaler is effective as a routine contamination monitor and test instrument and its results are reproducible. The ratemeter accuracy is +/- 5%. The scaling section can resolve pulse pairs of 200 usec separations and will count at a rate of 50,000 ppm. Instrument operates with an assortment of halogen quenched tubes and has a built-in calibration-check signal."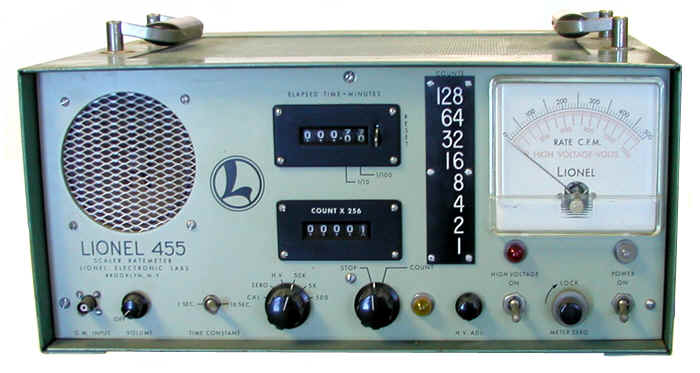 What is a little unusual about this instrument is the fact that it was built in the early 1960s, yet it employs a binary scaler. By the 1960s, binary scalers were pretty much obsolete having been replaced by decade scalers. I suppose another somewhat unusual thing about this instrument is that it was manufactured by the Lionel Corporation, the same people that make toy trains. Learn more about Lionel's entry into the nuclear business.
Range: 0-500, 0-5,000 and 0-50,000 cpm
High Voltage Supply: 0-1500 volts
Size: 17 1/2" x 7 1/2" x 14"
References
Product notice. Nucleonics. February 1963, p 82.
Lionel Operating Manual. No date on manual but schematics dated 1962.
Nucleonics. June 1963, p 101.