Early and Unusually Small Revigator (ca. 1924)
Click here for a detailed history about R.W. Thomas, the Revigator and the Thomas Cone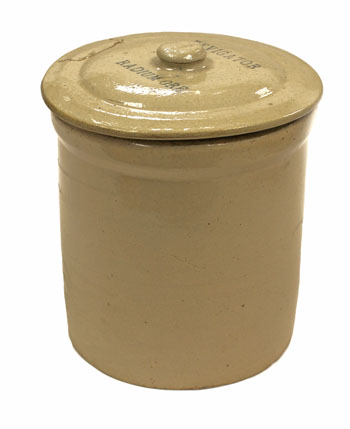 This is a very early and extremely rare version of the Revigator. In fact, it is the only example I have ever seen. If it wasn't for the name on the lid (photo below left), you might not recognize that it was a Revigator. The body of the jar has no markings of any kind.
What makes this particular example unique is its small size: ca. 7" high and 5.5" in diameter
Exposure rate: Nothing detectable above background at one foot
The photo below left shows the lid. What is not as obvious is that it is exactly the same size as the lid for the standard tan version of the Revigator. The latter is seen toward the left in the photo below right. The adult version of the straight-sided Revigator is toward the right.
Kindly donated by the State of Washington's Department of Health courtesy of Steve Matthews.