Revigator (ca. 1924-1926)
Click here for a detailed history about R.W. Thomas, the Revigator and the Thomas Cone
The Revigator was intended to add radioactivity (radon) to drinking water. Water without redioactivity was "devoid of its life element." Water without radioactivity was like air without oxygen.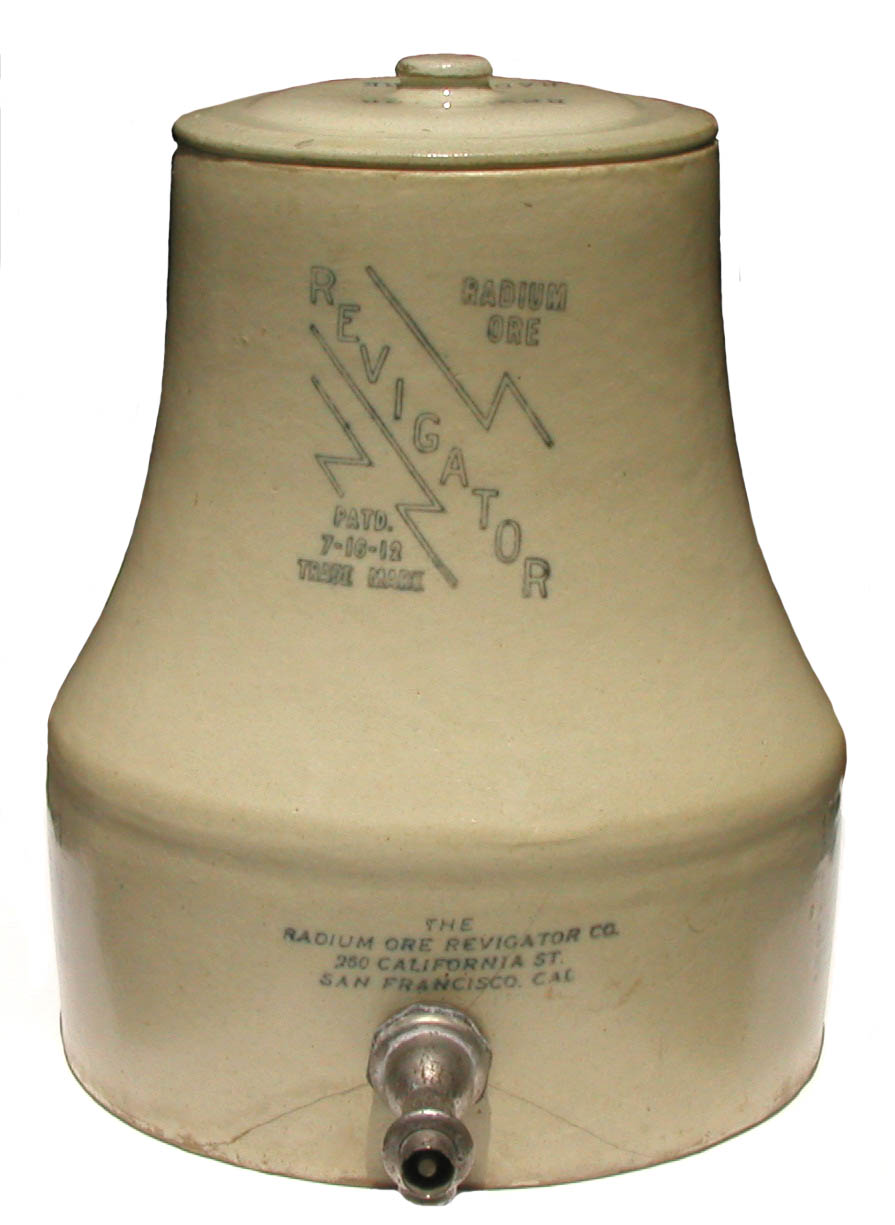 The glazed ceramic body of the jar has a porous lining that incorporated uranium ore. Water placed inside the jar would absorb the radon released by decay of the radium in the ore. Depending on the type of water, the resulting radon concentrations would range from a few hundred to a few hundred thousand picocuries per liter.
Advertised as "an original radium ore patented water crock," it sold in the hundreds of thousands between 1924 and 1930.
A company brochure stated, "Results overcome doubts." "The millions of tiny rays that are continuously given off by this ore penetrate the water and form this great HEALTH ELEMENT--RADIO-ACTIVITY. All the next day the family is provided with two gallons of real, healthful radioactive water... nature's way to health."
Users were provided the following printed instructions on the side of the jar:
Fill jar every night.
Use hydrant or any good water.
Drink freely when thirsty and upon arising and retiring. Average six or more glasses daily. Scrub with a stiff brush and scald monthly.
The tan version shown here is the most commonly encountered style of Revigator.
The predecessor of the Revigator was the Thomas Radium C.R. jar.
Considerable confusion persists about the correct pronunciation of "Revigator." The solution can be found in the question-and-answer section of a 1928 sales brochure of the Revigator Water Jar Company. The answer: "re-vig-a-tor. Accent on the vig."
Produced by the Radium Ore Revigator Company (aka the Revigator Water Jar Company) of San Francisco California. The address on the jar is 260 California Street, but by mid to late 1925 their headquarters had moved to Sutter and Taylor in the Revigator Building. Their Hayward offices were located at 519 Castro Street, and 641 Castro Street.
The text on the front of the Revigator gives a patent date of July 16, 1912. This refers to U.S. Patent 1,032,951 taken out by Curt Schmidt, "a subject of the German Emperor," in which he describes the construction of such jars in very general terms.
Size: Approximately 9" diameter at base and 12" high
Donated by Randy Aldrich.