Revigator (ca. 1927-1930)
Click here for a detailed history about R.W. Thomas, the Revigator and the Thomas Cone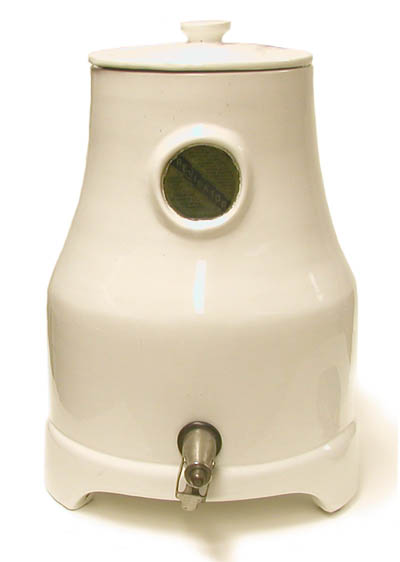 This is an example of the last version of the of the Revigator jar. It dates from 1927 at the earliest, to 1930 at the latest.
The patent application for the design was filed by John Franklin Haslett in 1927. As luck would have it, by 1932 when the patent (1,839,552) was granted, the Revigator Radium Ore Company had gone out of business.
The major departures from earlier versions of the Revigator include: the white color, the fact that the legs were an integral part of the body of the jar, the circular paper label on the front, and the design of the opening at the top.
The most important of these features is that the opening is formed by an inward projection from the top edge of the jar, and that this projection incorporates a trough. When the lid is in place, a downward projection/flange on the lid extends into this trough.
According to the patent, the primary objective of the new design was to minimize the escape of radon (niton) from the water being "radiumized" inside the jar. This escape was minimized by improving the seal where the lid and jar came into contact. To accomplish this, the trough around the opening needed to contain water. The latter created a wet seal between the lid and jar, a seal impermeable to radon.  However, I have haven't seen any literature from the company informing a jar owner about this.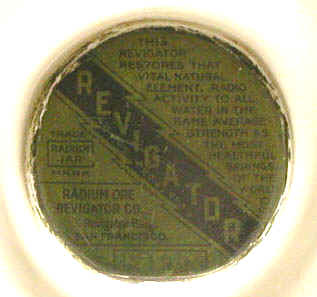 As noted in the patent, the projection around the opening also served as a handle with which to grip the jar when the latter needed to be moved. These jars were heavy enough when empty, let alone filled with water.
John F. Haslett, the patent holder, was the father of Elmer Haslett, President of the Radium Ore Revigator Company. The patent indicated that John Haslett resided in Sausalito, California, the same town Elmer lived in. However, from what I can tell, John Haslett lived in Missouri not California. The bottom line is that I suspect that Elmer Haslett played a role in the writing of the patent.
The instructions for use were stamped on the underside of the lid.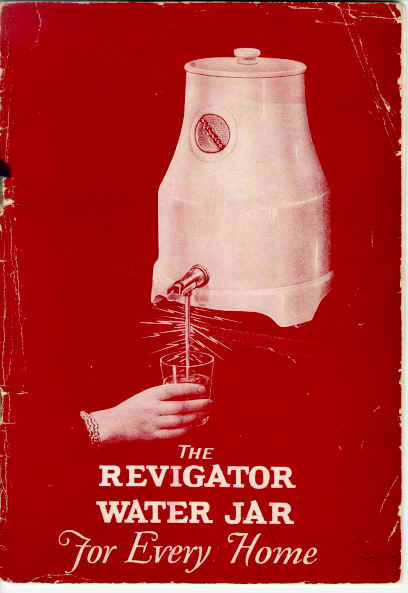 An article entitled "Radium Ore Revigator" in the November 21, 1925 issue of the Journal of the American Medical Association states: "As is commonly the case with latter-day pseudo-medicine having large financial resources behind it, the Revigator concern puts forward an hypothesis for which there is no foundation." Ouch! The article goes on to say that these sorts of products possess "no more therapeutic value than a two-dollar watch." Actually, this Revigator would have sold for $29.50 (or so).
Size: ca. 16" high, 10 1/2" diameter
Exposure rate: ca. 80 uR/hr at one foot from base
Donated by Andy Gulczynski.