Thomas Radium C.R. Jug (ca. 1922-1924)
Click here for a detailed history about R.W. Thomas, the Revigator and the Thomas Cone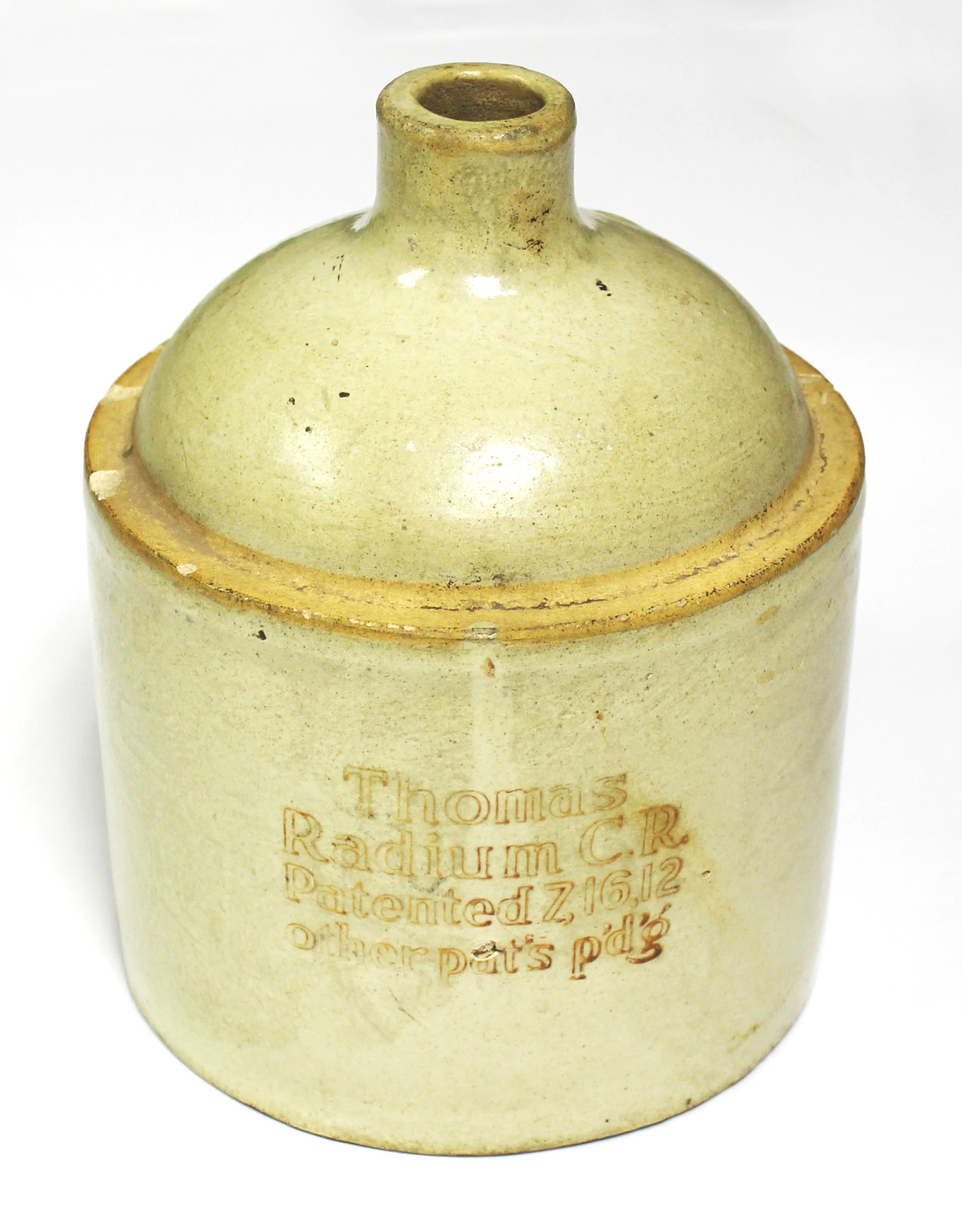 Unfortunately, the most common version of the Thomas Radium C.R. jar, the one with the straight sides and large removable lid, is not in the ORAU collection. But we do have the extremely scarce jug-shaped version pictured here.
The collection also has another unusual version of the Thomas CR Jar.
The Thomas Radium CR jar was the forerunner of the Revigator. But to my knowledge, a jug-shaped version of the Revigator was never produced.
The name change, from Thomas Radium Jar to Revigator, occurred in late 1924.
This jug, like the Revigator, is lined with a porous layer of yellowish uranium ore.
It was intended to be filled with water so that the water would be charged with "niton" (i.e., radon) and then consumed.
The text on the front of the jar reads "Thomas Radium C.R. Patented 7, 16, 12 other pat's pdg."
"Thomas" refers to the man who invented the Revigator: Ralph W. Thomas.
"C. R." refers to "Charging Receptacle(s)"
The patent date (7, 16, 12) refers to U.S. Patent 1,032,951 taken out by Curt Schmidt in which the construction of such jars is described in very general terms. Apparently, in 1924 when Thomas' company merged with the Dow-Herriman Pump & Machinery Company, the original German patent was purchased, at least according to the company advertisements. The new operation, known as the Radium Ore Revigator Company, was based in San Francisco at 260 California Street.
The jug has one obvious defect, the C-shaped handle that used to be attached near the neck has been broken off and lost.
Size: ca. 9" tall, 7.5" maximum diameter
Exposure rate: ca. 20 uR/hr above background at one foot