ORNL Brass Sources (1950s, early 1960s)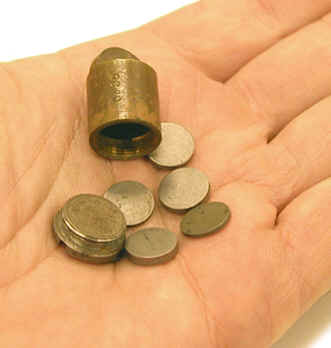 These brass source capsules, made at Oak Ridge National Laboratory (ORNL), are 9/16" in diameter and 11/16" high (1" including tab). Each one has "ORNL" and "Co-60" stamped on the side. This would indicate that real sources would have contained Co-60. Similar sources used Ir-192. They are also stamped with a serial number: "C-169" in one case, and "C-244" in the other. 
As can be seen in the photos, they are somewhat unusual in that the capsule is not welded shut. Although not the case with these dummy sources, real ones would have had the body soldered to the threaded steel plug. The latter is magnetic steel which would facilitate retrieval in some circumstances. This type of source would not have been made after the start-up of the Source Safety Testing program in the mid 1960s because the solder would not withstand the heat test. The dummy source inside one (not shown) is a steel cylinder 3/8" in diameter and 3/8" high. The source inside the other (photo below left) consists of six steel disks. Three of the disks are 1/24" thick and the other three are 1/12" thick. It is possible that three of these are spacers. Most likely, these would have been used in industrial radiography although some were used as well logging sources. Believe it or not, the original idea was to reuse the source capsules, that is why brass was used.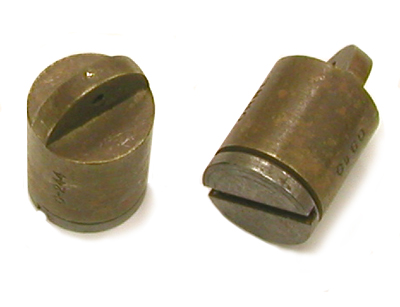 Reference
Karl Haff, personal communication. At different times, Haff headed up ORNL's Source Safety Testing Program and their Radiochemical Processing Program. He used these dummy sources in classroom demonstrations at Oak Ridge Associated Universities.