Wolf X-Ray Products Operating Fluoroscope (ca. 1930s)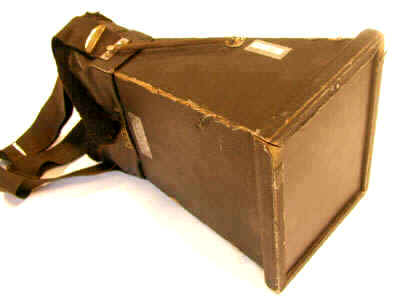 This particular fluoroscope was manufactured by the Wolf X-ray Products Inc. of New York City probably in the 1930s. Wolf X-ray Products, which specializes in X-ray accessories, is still in business. 
With the beam on, the physician would position themselves on the opposite side of the patient X-ray tube and view the image produced on the fluorescent screen of the fluoroscope. Compared to generating images on X-ray film, the use of a fluoroscope resulted in higher doses to the patient and doctor (who would not otherwise be exposed to the direct beam).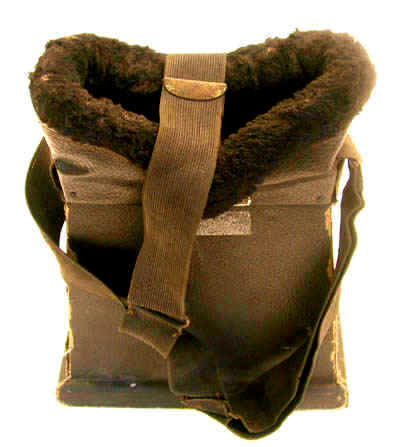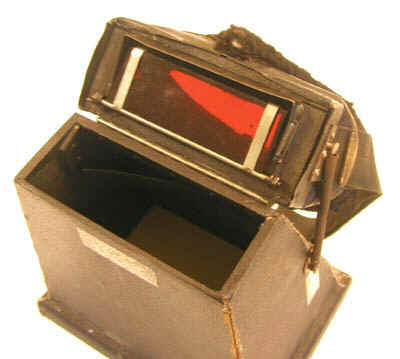 Because this unit was held on the head via straps, it permitted hands-free use—a decided advantage for a physician in the operating room.
The screen on this example consists of a layer of calcium or cadmium tungstate deposited on the inside of the glass plate that forms the broad end of the device. The body of the fluoroscope is covered with black leatherette and the viewing port is protected from stray light with a fur-like fabric.  
The front end of the fluoroscope can be flipped up out of the way so that the physician could see without having to completely remove the fluoroscope. When the fluorescent screen was flipped up, the physician had the option to see through a red screen (visible in the photograph to the right. Even if the room were brightly lit, the red screen would ensure that the physician's eyes remained dark adapted.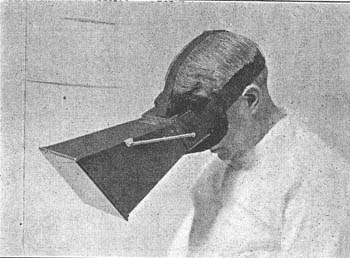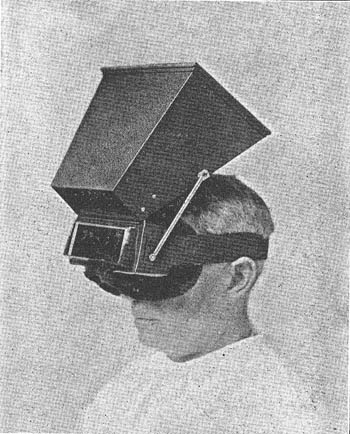 According to the Patterson X-ray screens Company literature, "this was developed by a French roentgenologist and came into active use during the World War. It finds a place in the modern laboratory where the Operating Surgeon desires to work with the assistance of the X-Ray and have both hands free."
Size: Screen approximately 6" x 8"