Silk Screen for Clock Face - Ottawa, Illinois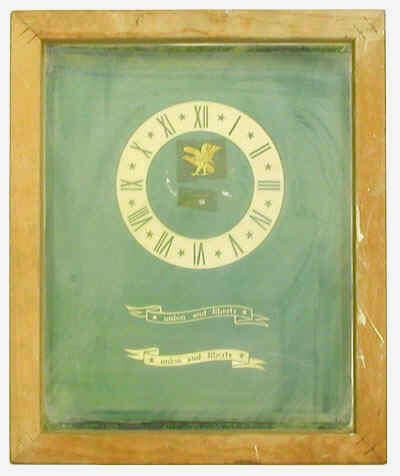 This silk screen for painting clock faces was obtained during the cleanup of the Luminous Processes facility in Ottawa, Illinois. It was used to paint the non-radioactive portion of the clock face—there are no traces of any radioactive contamination. The name "Westclox" appears in small lettering in the center of the clock face. Beneath the clock face there are two horizontal banners/ribbons that read "Union and Liberty." It is approximately 17" x 24" in size.
In 1918 the Radium Dial Company (a Division of the Standard Chemical Company) began producing radioluminescent dials in Chicago. Most of their work was done for Westclox, so when Westclox asked Radium Dial to move to Peru, Illinois where the Westclox clock factory was located, Radium Dial complied (ca. 1920). In a few years, Radium Dial moved to nearby Ottawa, Illinois because Westclox complained that Radium Dial was stealing its workers with its higher wages. In the mid 1920s, the Ottawa facility was the largest dial painting facility in the US and was producing approximately one million dials per year.
In 1934, the Radium Dial Company's President, Joseph Kelly Sr., left to startup a competing company, Luminous Processes Inc. Luminous Processes was located only a few blocks from Radium Dial. In 1936, the Radium Dial Company went out of business—its buildings were demolished in 1968. Luminous Processes Inc. continued operations until 1978—its buildings were demolished between 1984 and 1986. 
Reference
Ross Mullner. Deadly Glow. The Radium Dial Worker Tragedy.  American Public Health Association. 1999.