Model 606 AEA GM Survey Meter (ca. late 1950s)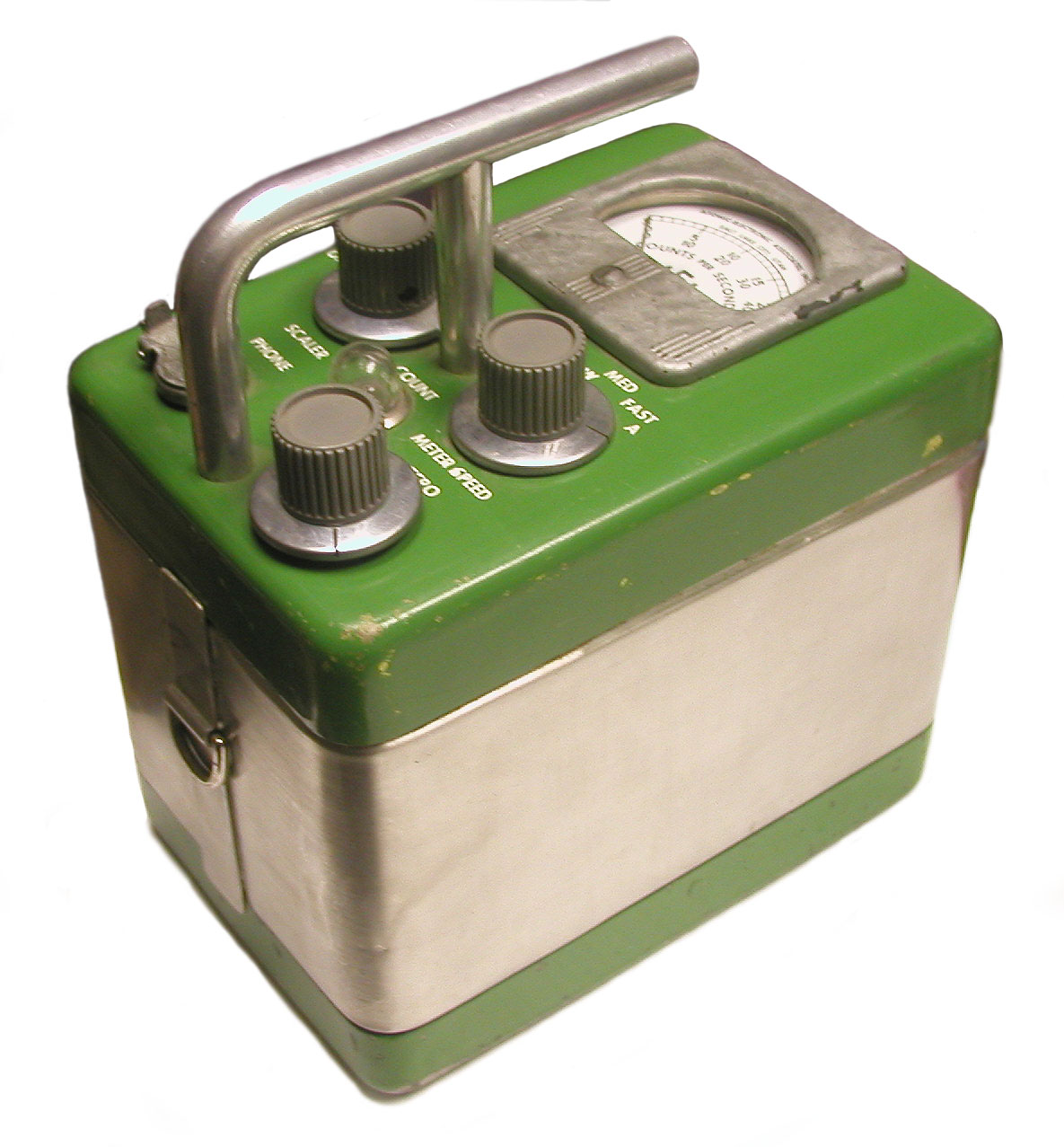 This GM survey meter was manufactured by Atomic-Electronics Associates, Inc. of Salt Lake City Utah. It was designed for uranium prospecting, hence the use of six high sensitivity thin walled GM tubes.
There is a rather unusual feature about this meter that might be worth noting: the range switch (labeled Scaler) has a "0" position. The instructions indicate that this is the setting to be used for prospecting. In this position, the "count from Cosmic Rays is cancelled out so that only radiation from ore will register." With the range switch set at "0," the "Zero" adjust knob (lower right) is tweaked to bring the counts per second indication to zero. Obviously, this is a type of background cancellation that affects all background counts, not just those from cosmic rays.
Regarding the "Meter Speed" switch: the instructions indicate that it should be set at Fast when the instrument is used in a plane, Medium when the instrument is used in a car, and Slow when the prospecting is done on foot. Positions "A" and "B" are battery checks.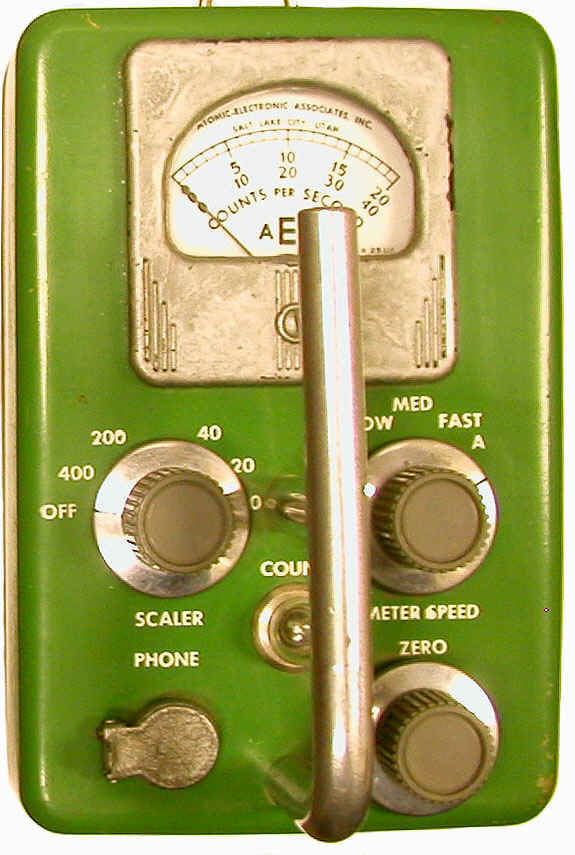 Quoting the instructions: "For all round prospecting, you could not have purchased a finer unit. In designing this piece of equipment, the utmost thought was to provide you with an extremely sensitive instrument that is not affected by heat or cold. This model has been fully field-tested under all kinds of weather conditions from howling blizzards, where an excellent ore body was discovered, to searing hot desert heat, with equally satisfactory results. In addition to these features, you will soon discover that this unit is by far the most trouble free in the business and will give years of dependable service."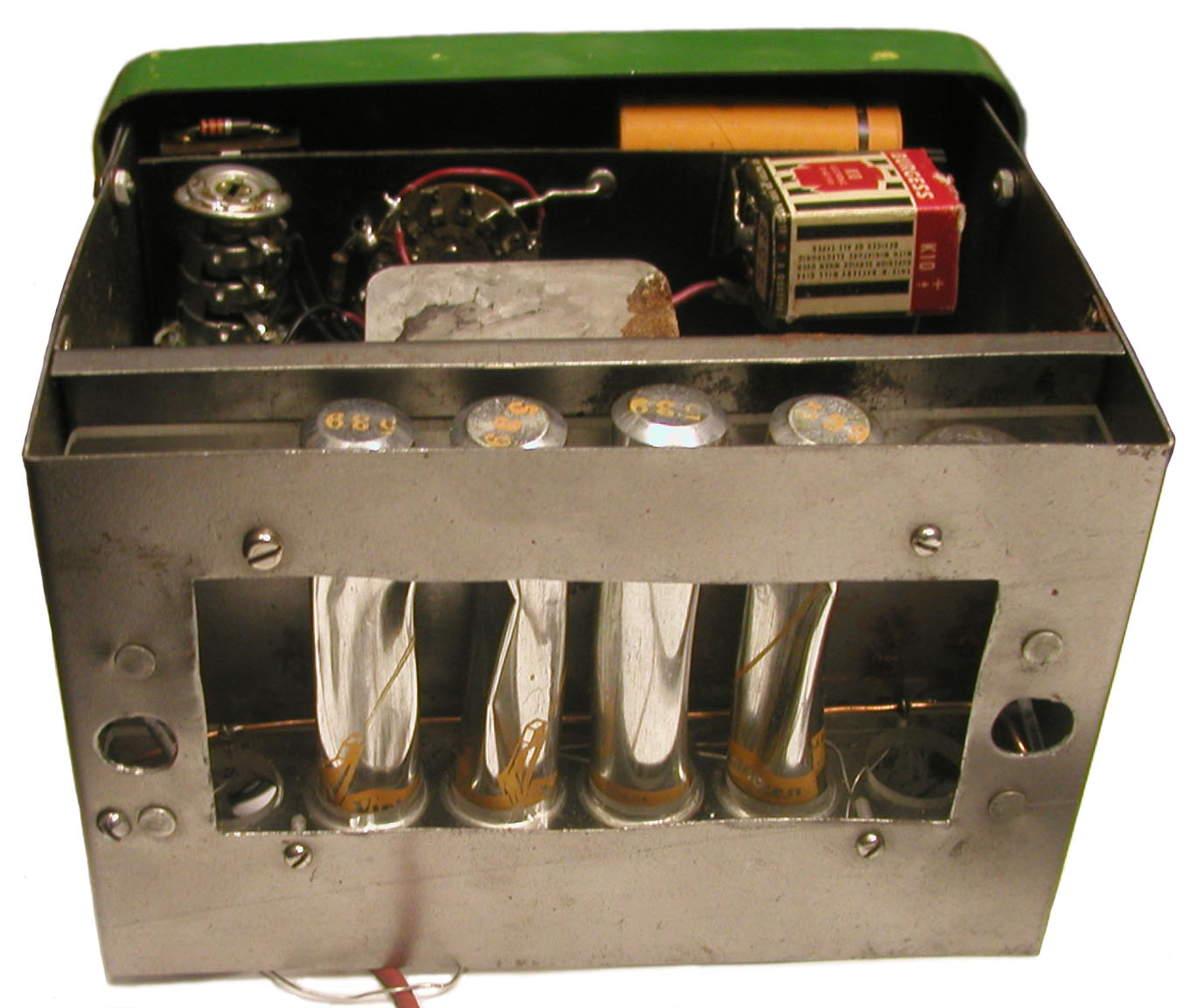 Output: No speaker but jack for headphones. The neon light labeled "Count" flashes every time a pulse is registered.
Detector: Six Victoreen 6306 thin-walled GM tubes with bismuth cathodes. Two are missing in this example.
Ranges: 0-20, 0-40, 0-200 and 0-400 counts per second
Size: 5" x 7 1/2 " x 6 "
Batteries: One 1 1/2 volt "A" battery, one 15 volt (Burgess K10), one 67.5 volt
AEA seems to have produced four basic detectors: the Model 101 with a single internal GM tube (the case is a light maroon color); the Model 202 with an external probe (dark maroon); the Model 606 with six internal GM tubes (green); and the Model 707 with multiple internal GM tubes and a buzzer alarm (blue). My thanks to Jim Hill for the latter information.
Kindly donated by Chuck Abraham.
Reference
Model 606 Series of AEA Gamma-o-meters. Operating Instructions. No date.