Detectron Corporation Model DG-7 Geiger Mueller Survey Meter (ca. 1950-1960)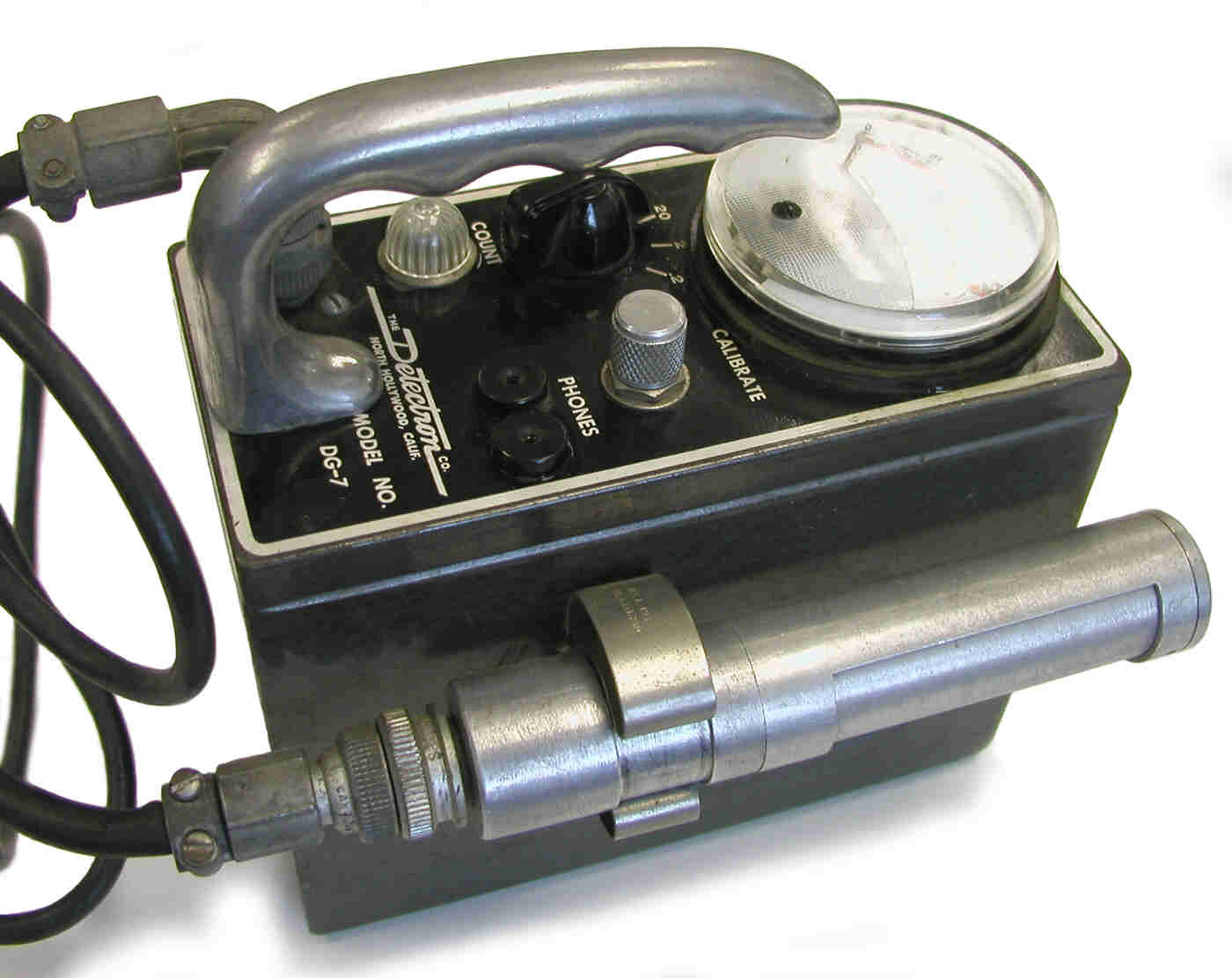 The Model DG-7 GM survey meter was produced by the Detectron Corporation of North Hollywood, California. The company was founded (ca. 1949-1950) by Larry Cassingham and Jack Rondou. Rondou suggested that they call their new company "Detectronics" but Cassingham thought the name was too long and shortened it to "Detectron."
The DG-7 seems to have been produced in at least two versions. That pictured in the AEC Catalog Supplement of 1954 has a square (rather than round) meter face and the probe was attached to the top of the handle rather than the side of the case.
As an advertising flyer for the DG-7 noted, it was "the ultimate in low cost light-weight all-purpose Geiger Counters"..."tropicalized, fungus resistant and waterproof" and "very satisfactory as a laboratory instrument, for industrial monitoring, and for use as a civil defense monitor in decontamination procedures."
Detector: Thin-wall GM tube
Range: 0-0.2, 0 -2.0, and 0-20 mR/h
Audio: No speaker but connections for headphones
Size: 3.25" x 6.5" x 5.25"
Batteries: Two 45 volt, two 1.5 volt and one 15 volt
Price: $150
Since Detectron was located in North Hollywood, it was only natural that their instruments were used in a number of motion pictures, e.g., The Brain from Planet Arous. In fact, Larry Cassingham, the company president, served as the Technical Director for a number of films, e.g., Zombies from the Stratosphere with Leonard Nimoy and The Atomic Kid starring Mickey Rooney.
Donated by Ron Kathren.
References
Atomic Energy Commission Radiation Measuring Instruments, RIB-8 (supplement 2) July 1, 1954, page SGM-81A.
Advertisement/flyer, no date.
Cassingham, C. "Detectron and Larry Cassingham" website.
Operating Instructions. Detectron Models DG-2 and DG-7 Geiger Counters. No date. ca. 1950s.