Fisher "Uranium Scout" (1950-1955)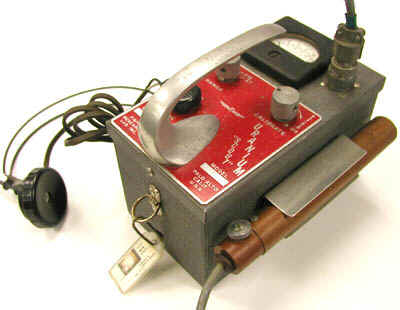 The "Uranium Scout" Model T was a neat looking prospector's GM manufactured by the Fisher Research Laboratory, Inc. of Palo Alto, California. There is a small check source in a plastic holder that is fixed by a chain to the case. The instructions with the check source read: "Scout: Place at center slot on side of box. Scout De Luxe: Place over test spot on probe." Since the probe has a small black test spot on the side, and since there is no slot on the case, it would seem that this is the "Scout De Luxe." There are two controls: a range switch (Off, x1, x10, x100) and a sensitivity/calibration adjust.
Detector: Aluminum thin-walled GM tube (Victoreen 1B85) enclosed in bakelite probe that attaches to the side of the case.
Range:
0-500, 0-5,000, 0-50,000 cpm
001, 0-10, 0-100 ore concentration (percent?)
Audio: No speaker, but comes with headphones
Size: 4" x 7.5" x 4.5"
Batteries: Two 1.5 volt, one 45 volt and one 67.5 volt