Goldak U-238 GM Detector (early 1950s)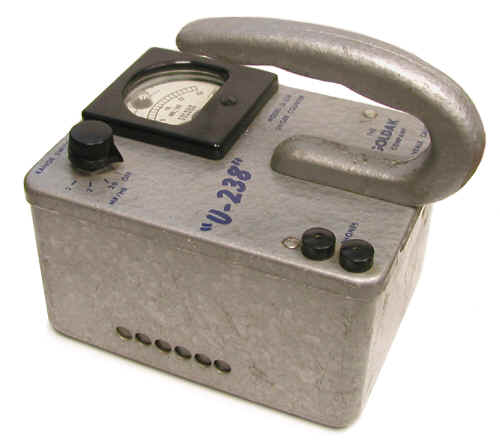 This is a Model U-238 (cute name) GM detector produced by the Goldak Company of Glendale California. In the late 1940s, Goldak specialized in the manufacture of equipment designed to locate underground objects such as cables and pipes (the company is still in business). According to Curt Cassingham, his father Larry Cassingham worked for Goldak at that time and suggested that they expand their line of products to include radiation detectors. Apparently, Goldak wasn't interested so Cassingham left the company and started up Detectron. The only other radiation detector manufactured by Goldak that I know of is the Model 200 (the Colorado) and I have not managed to locate any references to the Model U-238. It looks like it was manufactured in the late 1940s or early 1950s. Perhaps Goldak saw that Detectron was doing well in the nuclear business, and the U-238 was a half-hearted attempt to compete. It was likely designed for use by uranium prospectors. The detector window, twelve small plastic covered holes in the case (six on the side and six on the bottom), is very similar to that of Detectron's DG-5 detector.
Detector: Victoreen 1B85 thin-walled GM tube
Ranges: 0-0.2, 0-2.0, 0-20 mR/hr
Dimensions: 5 1/4" x 4" x 3 1/4"
Audio: Headphones, no speaker
Batteries: One 1.5 volt D battery
The model U-238 C used two 1.5 volt D and two 45 volt B batteries.
References
Detectron website managed by Curt Cassingham.
Renne, H.S. Atomic Radiation Detection and Measurement. Photofact ADR-1. 1955.
Popular Electronics. July 1955. Market Survey of Geiger Counters.