Hoffman "Countmaster" Scaler/Ratemeter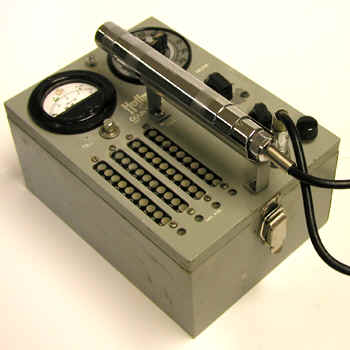 The "Countmaster" was a combination ratemeter/scaler produced by Hoffman Laboratories of Los Angeles. The patent was issued in 1953 but the instrument doesn't seem to have gone into production until 1955. It is certainly one of the earliest survey meters to operate as a scaler and, I believe, the very first to employ a decade scale. The timer in the upper right hand corner of the unit, which operated like a typical kitchen timer, permitted the user to select a count time from 20 seconds to 2 minutes. If desired, you could count for longer periods by turning the unit on and off manually.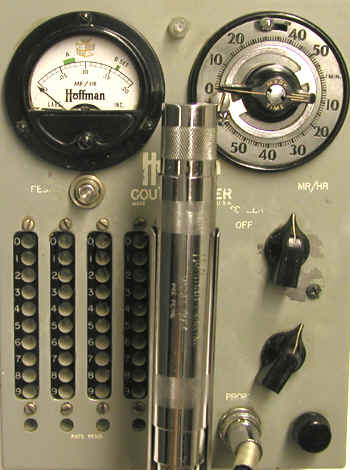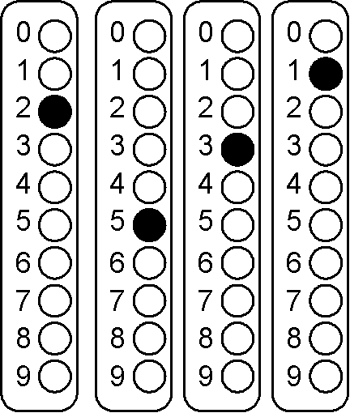 The manufacturer claimed that the four decade scales permitted a maximum count of 100,000. I'm not sure how they managed to get above 10,000 but I'm willing to take their word for it. The values for the four digit number were simply determined by reading the lights. For example, the display to the right would indicate a count of 2,531.
When operated as a ratemeter, the user could select three ranges: 0–0.2 mR/h, 0-2 mR/h and 0-20 mR/h.
The detector itself, is a standard GM tube.
Batteries: Four 1.5 volt "D" cells, one 15 volt and two 75 volt
References
Product description in Nucleonics, April 1955 p. 95.
Countmaster Instruction and Service Manual, no date.