Jordan Model AGB-10KG-SR "Radgun" (1957-1965)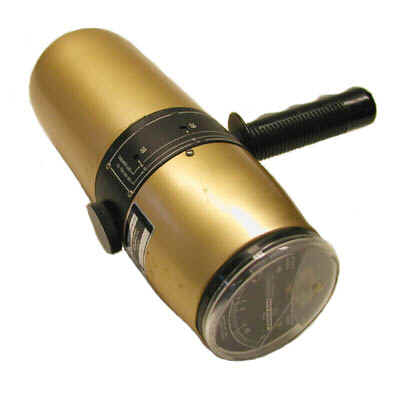 Manufactured by Jordan Electronic Mfg. Co. Inc. of Pasadena California, the Radgun was a unique looking wide range ionization survey meter. It had a pistol grip, a gold cylindrical body with a circular logarithmic scale on one end, and it came in three versions: AGB-1G-SR, AGB-10G-SR, and the AGB-10KG-SR. The SR at the end of the model number referred to the built-in Sr-90 check source. The GB at the beginning of the number, referred to the fact that they were sensitive to gamma and beta radiation. The only difference between the three models was their ranges of operation.
The predecessors to the Radgun, the AGB-1-SR, AGB-10-SR and AGB-10K-SR, had a shorter body, a chrome metal handle, and a separate 5.75" x 3.5" x 2.25" control unit. They were produced at least as early as 1954.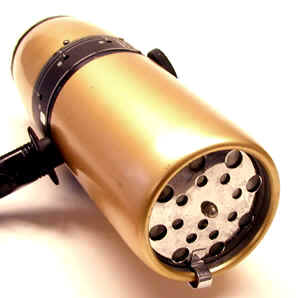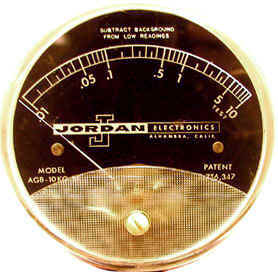 The most unique thing about the Radgun was not its appearance, but its use of the Neher-White ionization chamber. This chamber had several interesting features: the chamber current drove the meter directly in a logarithmic mode without any type of amplification; the electrometer tube was sealed inside the chamber itself; the chamber was of all steel construction; and it was filled with argon at high pressure (Neher's principal field of study was cosmic radiation, a field in which the use of high pressure ion chambers was commonplace). The steel construction provided considerable strength, but it also created an over-response at low energies that was compensated for by the use of a lead filter.
If desired, the chamber could be detached and connected to a six-foot extension probe or a 25" cable.
Detector: High-pressure (10 atmospheres), argon filled detachable ion chamber with a 20 mg/cm2 window
Ranges: Log scale
AGB-1G-SR 0.01-1 mR/h, and 1-100 mR/h
AGB-10G-SR 0.01-10 mR/h, and 0.01-10 R/h
AGB-10KG-SR 0-10 mR/h, 0.01-10 R/h, and 10-10,000 R/h
Dimensions: 4.5" diameter and 12.75" long
Weight: 4.5 pounds
Batteries: Three 1.34 volt, one 5 volt, and three 30 volt batteries
Donated by Ron Kathren.
References
Advertisement, Nucleonics November 1957 p 198.
Advertisement, Nucleonics January 1958 p 36.
Victoreen brochure "Survey Meters, Dosimeters", Form 3038-61, 1961.
Instruction Manual for Jordan Model AGB-10G-SR - the circuit diagram for the Radgun carries two dates 8-8-57 and 1-4-62.