Nuclear-Chicago Model 2586 "Cutie Pie" (1957-1960)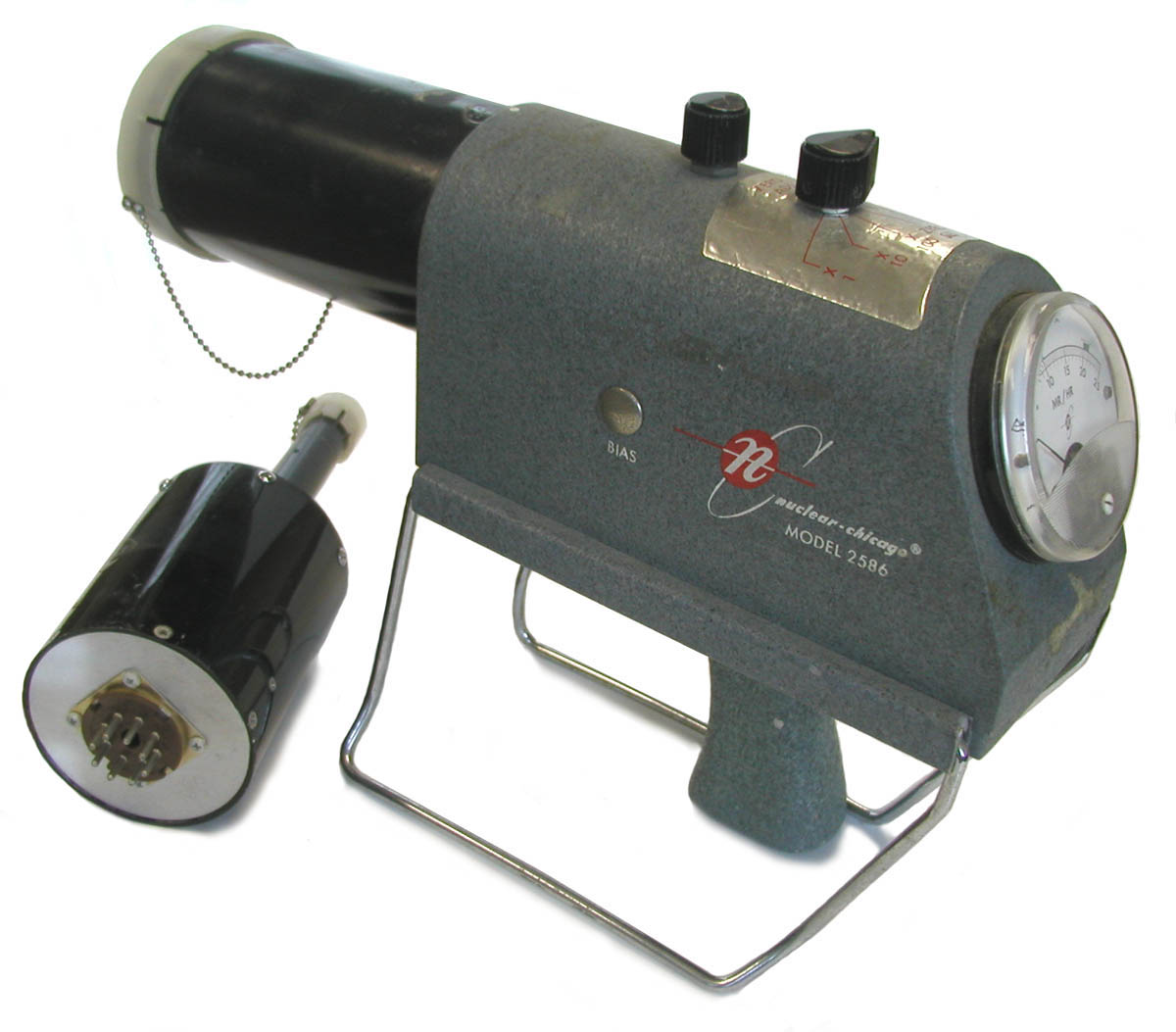 One particularly unique feature of this instrument is the plug-in chamber design. Not only can different chambers be used with the instrument, the chamber can be separated from the unit and operated remotely with a cable up to 100 feet. To make this possible, the electrometer tube is an integral part of the chamber assembly. Two fold down legs allow the instrument to be stood in an upright position on a flat surface.Among other things, this would sometimes allow the operator to easily observe the meter while remaining some distance from the radiation field being measured.
The unit has two readily accessible controls: the six position function switch and the zero adjust. The bias and sensitivity controls are located behind snap plugs on either side of the case.
In the photograph (above right) the low range (most sensitive) chamber is connected to the meter. An unplugged high range (least sensitive) chamber is also shown.
In the 1960s, the emergency response folks at Lawrence Livermore would surround the high range probe with foam rubber and connect it to a 50' cable. In an emergency situation, they could then throw the probe into a potentially high exposure rate area and make a measurement prior to entry.
Detector: Cylindrical 500 cc ion chamber, open to the atmosphere, bakelite walls, end window < 1 mg/cm2 with slip on plastic cover
Range: 0-25, 0-250 and 0-2500 mR/h
Dimensions: 13" x 9" x 4"
Weight: Four pounds
Batteries: Four 1.34 volt, two 15 volt and four 30 volt batteries
Check source: C-14, marked by a red disk, on the inside of the plastic protective cap/cover for the low range chamber
Donated by Ron Kathren.
References
Operation Manual for Model 2586, January 1957.
Model 2586 Cutie Pie survey meter, Nucleonics September 1957 p 51.
Model 2586-S Cutie Pie, Nucleonics March 1961 p 135.
Kathren, Ron., Personal communication.