Nuclear-Chicago Model 2612 GM (ca. 1954-1960)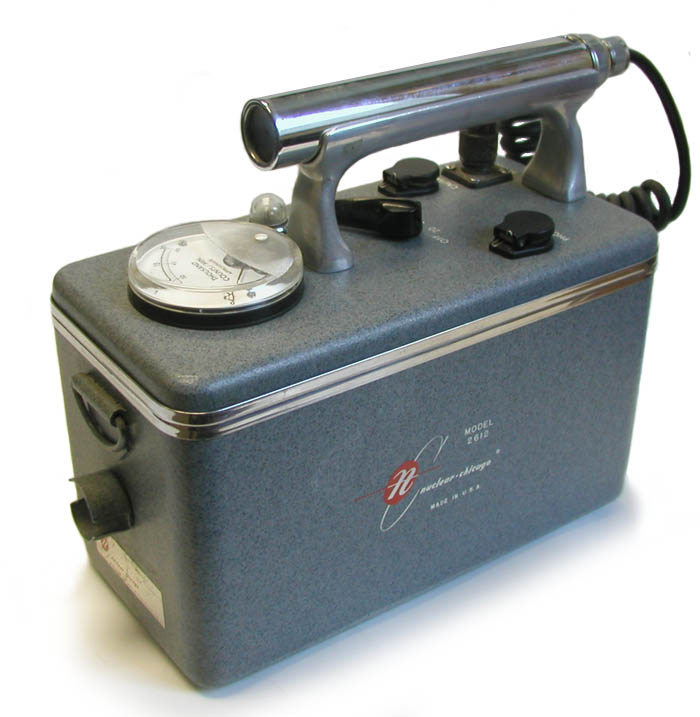 The Model 2612 GM survey meter was produced by the Nuclear-Chicago Corporation and it is very similar to the Nuclear Instrument and Chemical Corporation Model 2610. Nuclear-Chicago had previously been known as the Nuclear Instrument and Chemical Corporation and the latter is the name that appears on the schematic inside the case. Although the approval date for this schematic is January, 1955, the Model 2612 is featured in the Atomic Energy Commission's 1954 supplement to their Radiation Measuring Instruments compendium.
This instrument could be used with one of two interchangeable GM probes: an end window (like the example shown here), and a side window. If the instrument is calibrated with one probe but used with the other, the readings will be approximately 12% off.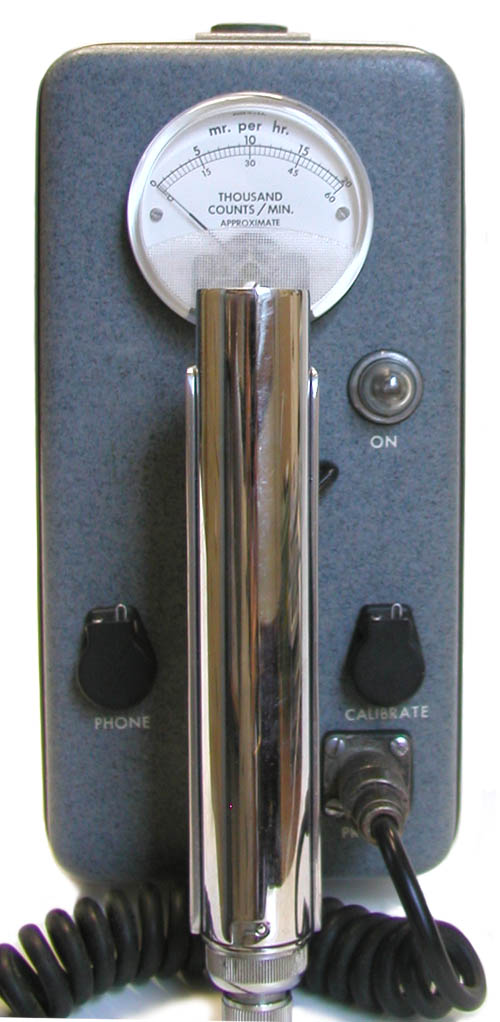 Quoting the instruction manual: "This instrument is highly recommended for general purpose survey work in radioisotope laboratories, and its rugged rainproof construction makes it ideal for geological surveying for radioactive ores (using Model D50 GM tube." In the above photo, the empty holder for the check source is pointing towards the front. It would typically be pointing towards the back however.
Detector: Optional. Either Model D50 glass side-wall GM (organic quenched) with Model P15 probe, or a Model D35 end window GM with Model P16 probe.
Ranges: The meter reads out in mR/hr and thousand cpm. The range switch has four positions: OFF, 20, 2 and 0.2. The meaning is clear enough when reading mR/hr, but not so clear when reading out in cpm.
0-0.2 mR/h, 0-2 mR/h, 0-20 mR/h
0-600 cpm, 0-6,000 cpm, and 0-60,000 cpm
Audio: Headphones, no speaker
Dimensions: 10" x 4.75" x 5.75"
Weight: 10 pounds
Batteries: Two 1.5 volt, two 67.5 volt
Check source: Ra-226 (missing in this example)
References
Nuclear-Chicago. Manual of Operations and Service Instructions. No date, but schematics dated January 1955.
Atomic Energy Commission. Radiation Measuring Instruments, RIB-8 (supplement 2). July 1, 1954. Page SGM-4F.