NUCOR Model D-6 "Samson" Alpha Meter (ca. 1959-1965)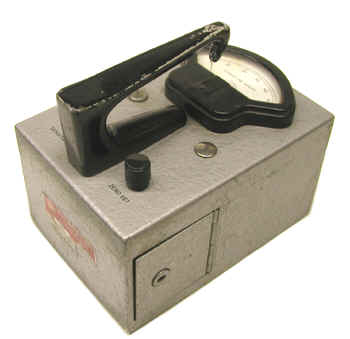 This instrument was manufactured by the Nuclear Corporation of America (NUCOR) of Denville, New Jersey, probably in the late 1950s or early 1960s. The Samson alpha detector, developed around 1950-1952, was a modified version of the Zeuto. Both instruments were ionization chambers housed in a box-like case and calibrated for alpha detection (although they could also detect other types of radiation). The Samson had a large detector area (100cm2) and it was capable of detecting down to 200 dpm alpha. Some versions of the Samson also permitted connection to an external detector, commonly a freon-filled ion chamber, for beta-gamma work.
It is possible the name is derived from the phrase "son of Standard Alpha Monitor," i.e. son of "sam." For what its worth, an advertisement in the May 1959 issue of Nucleonics gave the spelling as "Sampson."
Detector: 40 cc ion chamber with a 4" x 4.5" pliofilm window (0.6 mg/cm2)
Range: 0-500, 0-2500, and 0-12,500 cps
Dimensions: 6" x 8.5" x 4.5"
Weight: 7.5 pounds
Batteries: Four 1.3 volt, seven 22.5 volt, one 6 volt and one 9.2 volt batteries
References
Advertisement, Nucleonics May 1959 p 201.
Kathren, R. "Instrumentation for Monitoring and Field Use" in "Radioactivity and Health, A History," by N. Stannard DOE/RL/013791, 1988.