Precision Model 106 and 106B "Lucky Strike" (ca. mid 1950s)
The Precision Radiation Instruments Model 106B, also known as the "Lucky Strike," was a Geiger Mueller survey instrument designed for uranium prospecting. The manufacturer claimed, "It is the lightest weight and smallest size ever achieved in an instrument of this type." There is no speaker to provide an audible signal but there is a connection on the top of the instrument for headphones. The count rate could also be estimated by observing the small flashing neon light to the left of the meter face.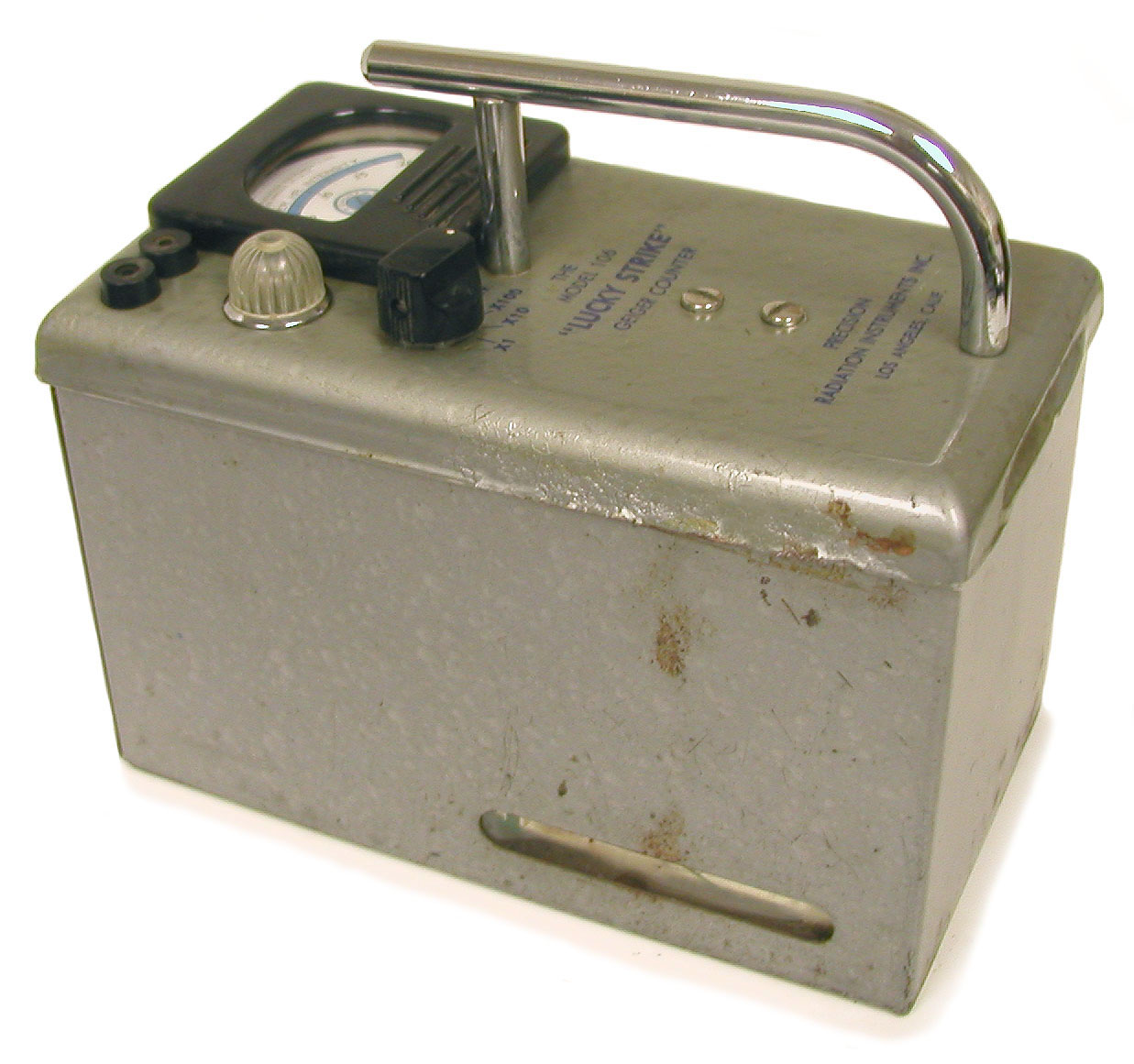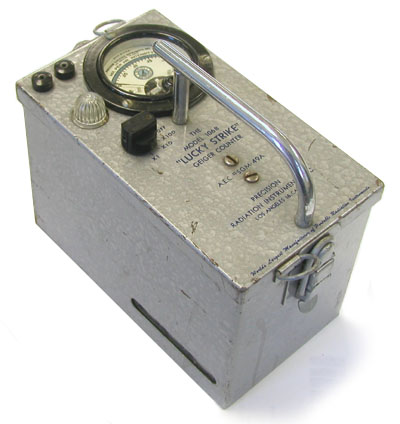 For some reason, maybe it was just a part of being in LA, Precision Radiation Instruments was also in the music business. While none of the PRI-owned labels (Craftsman, Tops, etc) were household names, they did produce records for some reasonably well known entertainers such as Mel Torme and Lena Horne. One PRI 33 1/3 record worth mentioning: "If the Bomb Falls," a primer on surviving a nuclear attack.
Detector: GM tube located inside the meter case (see elongate plastic covered window on bottom of case in photo above right).
Range: 0-0.2, 0-2 and 0-20 mR/h.
Batteries: Two 1.5 volt, two 45 volt and one 22.5 volt batteries
Dimensions: 3 3/4" x 6 3/4" x 4 1/2"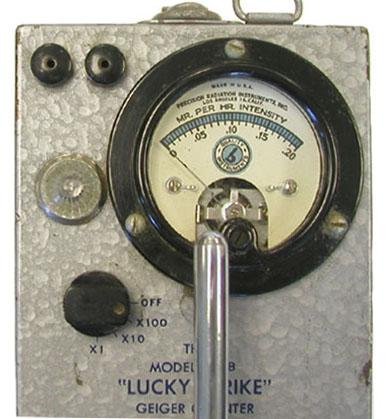 Weight: 5 pounds
Price: $99.50 in 1954 for Model 106A
References
Atomic Energy Commission Radiation Instrument Catalog No. 2, Part 2, page SGM-49A, page date July 1, 1950 (Model 106).
Atomic Energy Commission Radiation Measuring Instruments RIB-8 Catalog No. 3, page SGM-49A1, July 1, 1953 (Model 106).
Precision Radiation Instruments, Inc. Catalog, (Model 106A) Form 1001B, 1954 copyright.
Precision Radiation Instruments, Inc. Operation and Maintenance manual for the Model 106B "Lucky Strike" and the Model 107B "Professional." No date but the schematic for the Model 106B is dated September 1954.