Precision Model 108 "Snooper" (ca. mid 1950s)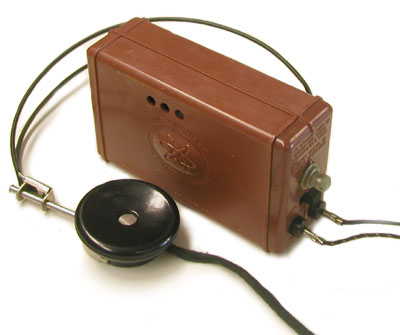 The Precision Radiation Instruments Model 108, also known as the "Snooper," was an inexpensive Geiger Mueller survey instrument primarily designed for uranium prospecting. According to the manufacturer, it was the instrument of choice "if you are an amateur, vacationer, or economy minded prospector."
The Snooper is turned on with the black plastic on/off switch and then the metal button just above the switch (pointing towards the lower right in the photo) is pushed two or three times. The instructions note that the button should not be pressed once the unit is working.
The detector output is monitored via headphones. The Snooper has no speaker, nor does it have any visual indication of the detector output, e.g., a flashing light or meter.
Detector: Thin-wall GM tube inside upper portion of case (see three circular openings in case in photo above right)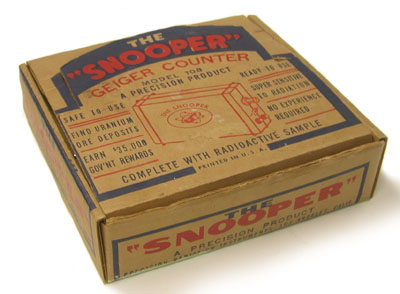 Batteries: One 1.5 volt and one 22.5 volt battery
Dimensions: 5 1/4" x 3" x 1 1/2"
Weight: 1 1/4 pounds
Price: $29.29 in 1954
The following quote is from an October 1955 newspaper advertisement: "The famous "Snooper" Geiger counter. $29.50. Here's the ideal Geiger counter for week-end forty-niners or economy minded prospectors. So small, it fits in your pocket, is as sensitive as many larger instruments. Order yours by mail... $1 down!"
References
Precision Instruments catalog, Form 1001B, 1954 copyright date.
Atomic Energy Commission Radiation Measuring Instruments RIB (Part 2) Supplement. Page SGM-74A, July 1, 1954.
Advertisement for Dey Brothers in the October 27, 1955 issue of the Syracuse Herald Journal.