Precision Radiation Instruments' Model 117B "Special Scintillator" (ca. mid 1950s)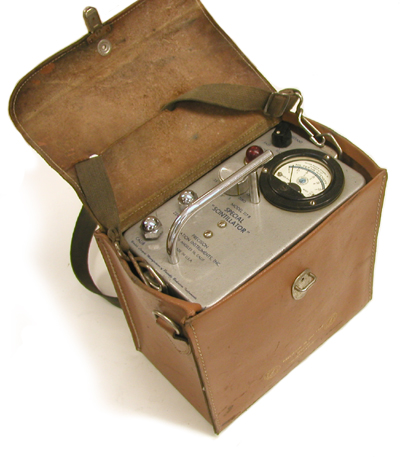 According to a company brochure, the Precision Radiation Instruments' Model 117B "was designed especially for the prospector who wants the advantage of a scintillation counter at a moderate price. It has many times the sensitivity of any geiger counter but is not as sensitive as the Model 111. It is an ideal instrument for field prospecting because of its ruggedness, compactness, and light weight. It also has many uses in the laboratory and in industry."
There was no audible signal, no speaker, no headphones.
As can be seen in the accompanying figure, this particular example came with a leather carrying case. A small check source was also provided.
I have found two references (from 1954) to the Model 117, but none to the 117B.
Detector: 1" x 1/2" NaI crystal located on the inside of the case
Range: 0-0.025, 0-0.05, 0-0.25, 0-0.5, 0-2.5 and 0-5 mR/h
Batteries: Four 1.5 volt, two 45 volt and one 22.5 volt
Dimensions: 4 1/2" x 7 1/4" x 7"
Weight: 6 3/4 pounds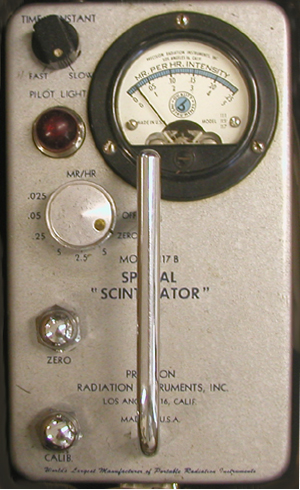 Price: $299.50 in 1954 (Model 117)
The red pilot light is used to prevent the instrument from being left in the on position accidentally.
For some reason, maybe it was just a part of being in LA, Precision Radiation Instruments was also in the music business. While none of the PRI-owned labels (Craftsman, Tops, etc) were household names, they did produce records for some reasonably well known entertainers such as Mel Torme and Lena Horne. One PRI 33 1/3 record worth mentioning: "If the Bomb Falls," a primer on surviving a nuclear attack.
References
Atomic Energy Commission Radiation Measuring Instruments RIB (Part 2) Supplement, page SGM-58A, July 1, 1954.
Precision Instruments catalog, form 1001B, 1954 copyright.