Precision Radiation Instruments Model 118 "Royal Scintillator" (ca. mid 1950s)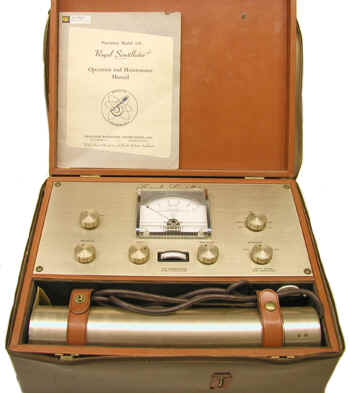 Of the various survey instruments produced by Precision Radiation Instruments, this was the top of the line.In general, the "Royal" was similar to the Model 115 "Super Scintillator" -both units were designed for airborne or vehicle surveys. However, the Royal scintillator was bigger and came with more features. The case was real leather and it had a protective cloth cover.The probe was connected to the meter by a 12 foot cable, there were four time constants, and it came with an output jack that allowed the output to be fed to an external strip chart recorder.The larger (2.25") crystal size of the "Royal," gave it several times the sensitivity of the "Super."
Without a doubt however, the most unique thing about the "Royal" was the fact that it could operate as a scaler, not just a ratemeter. All the user had to do was switch the unit to the scaler mode and it would perform a one minute count. As the counts were recorded, the needle moved across the meter until the count time was up. The final resting position of the needle indicated the accumulated count. Neat!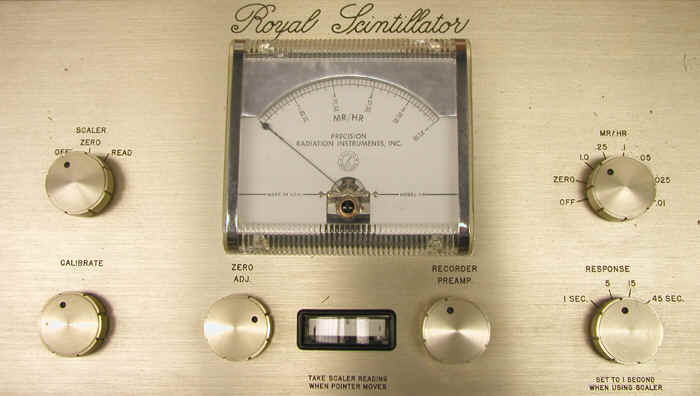 The earliest references I have found to the "Royal Scintillator" date from 1954. And since the only circuit diagram I have for it is also dated 1954, I am guessing that it probably first went into production that year.
Range: 0-0.01, 0-0.025, 0-0.05, 0-0.1, 0-0.25, and 0-1.0 mR/h
Batteries: Five 67.5 volt, two 22.5 volt, and fourteen 1.5 volt
Dimensions: 13" x 17" x 5"
Weight: 25 pounds
Price: $1,995 in 1954
For some reason, maybe it was just a part of being in LA, Precision Radiation Instruments was also in the music business. While none of the PRI-owned labels (Craftsman, Tops, etc) were household names, they did produce records for some reasonably well known entertainers such as Mel Torme and Lena Horne. One PRI 33 1/3 record worth mentioning: "If the Bomb Falls," a primer on surviving a nuclear attack.
References
Operation and Maintenance Manual for the Precision Model 118 "Royal Scintillator." No date.
Precision Instruments catalog, form 1001B, 1954 copyright.
AEC Radiation Measuring Instruments, RIB-8 (supplement 2) July 1, 1954.