Precision Radiation Instruments Model 121 "Drill Hole" (ca. mid 1950s)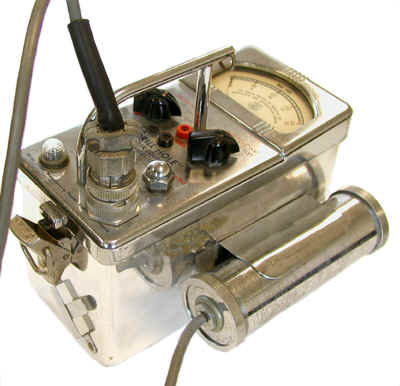 The Precision Radiation Instruments Model 121, also known as the "Drill Hole," was a Geiger Mueller survey instrument designed for making measurements in drill holes as deep as 1000 feet. In almost all respects, it was similar to the Model 120, also known as the "Drill Hole." The Model 121 Drill Hole came with three detachable probes: the end window GM (with removable protective cover) shown here, a side window GM with sliding beta shield, and a special probe (3/4" diameter) with a fifty-foot cable for subsurface measurements.
The assigned date (1955-1960) is based on the copyright date of 1955 for the Model 121's Operation and Maintenance Manual.
Detectors:
End window GM tube (30 mg/cm2)
Special subsurface GM probe (3/4" diameter) with fifty-foot cable (not present)
Range: 0-0.04, 0-0.2, 0-2 and 0-20 mR/h. It could be calibrated to read out as % uranium
Dimensions: 3.75" x 4.5" x 7.5"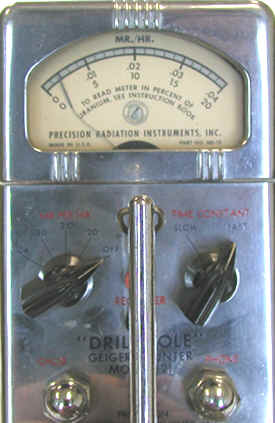 Weight: 6 pounds
Batteries: Two 1.5 volt, one 45 volt and one 67.5 volt batteries
For some reason, maybe it was just a part of being in LA, Precision Radiation Instruments was also in the music business. While none of the PRI-owned labels (Craftsman, Tops, etc) were household names, they did produce records for some reasonably well known entertainers such as Mel Torme and Lena Horne. One PRI 33 1/3 record worth mentioning: "If the Bomb Falls," a primer on surviving a nuclear attack.
References
Operation and Maintenance Manual for Model 121 "Drill Hole" Geiger Counter. August 1955.
Model 120, Atomic Energy Commission Radiation Measuring Instruments RIB (Part 2) Supplement, page SGM-93A, July 1, 1954.
Model 120, Precision Instruments catalog, form 1001B, 1954 copyright.