"Super Sniffer" Geiger Counter (early 1950s)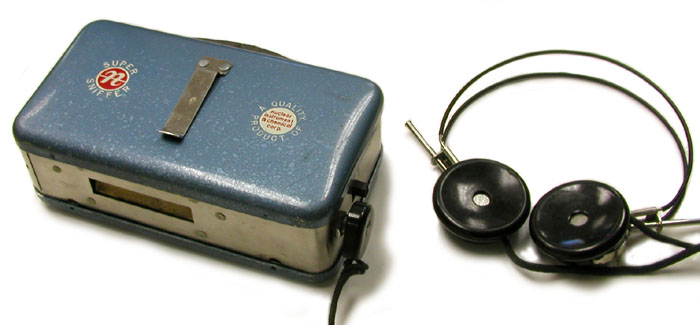 The "Super Sniffer" was manufactured by the Nuclear Instrument and Chemical Corporation of Chicago Illinois. Although not indicated on the instrument, it was designated by the company as the Model 2302.
This is an inexpensive instrument aimed at the amateur prospector, someone who wanted to become rich but didn't want to spent a lot of money to do so.
There is no meter to display the data. The radiation levels were indicated via the headphones and a small neon light on the top of the case (not shown). The only control is an on/off switch. The cover for the case snaps on - there are no screws to deal with. The GM tube is located inside the case at the bottom. As can be seen in the photo, there is a thin plastic window over the tube to provide some sensitivity to beta particles.
A product description from a 1950 issue of Nucleonics reads as follows: "Utilizing a neon lamp and earphones for count indications, the "Super Sniffer" is designed for use in prospecting. It is powered by two flashlight batteries and weighs less than two lb. A stainless steel Geiger tube is used as the detector and both beta and gamma radiation can be detected. Only control is an on-off switch. A clip is provided for attaching the instrument to the user's belt." Despite this description, the GM tube in the instrument shown here had a brass wall.
Detector: GM tube
Batteries: Two 1 1/2 volt flashlight batteries
Size: 2 1/2" x 7 1/2" x 4"
Weight: 2 lbs
The Nuclear Instrument and Chemical Corporation was originally known as the Instrument Development Laboratories (IDL) which was founded by John Kuranz, Thomas Mitchell and James Schoke in 1946. In 1947, IDL officially became the Nuclear Instrument and Chemical Corporation (the new name started to be used in 1948). In 1954, the name changed once more, this time to Nuclear-Chicago. They later merged with Texas-Nuclear and the Radiation Instrument Development Laboratory.
References
Atomic Energy Commission. Radiation Measuring Instruments, RIB-8 (supplement 2). July 1, 1954. Page SGM 33C.
Product description. Nucleonics. November 1950. p 61.