Victoreen Model 631 "Vic-Tic" (1955-1960)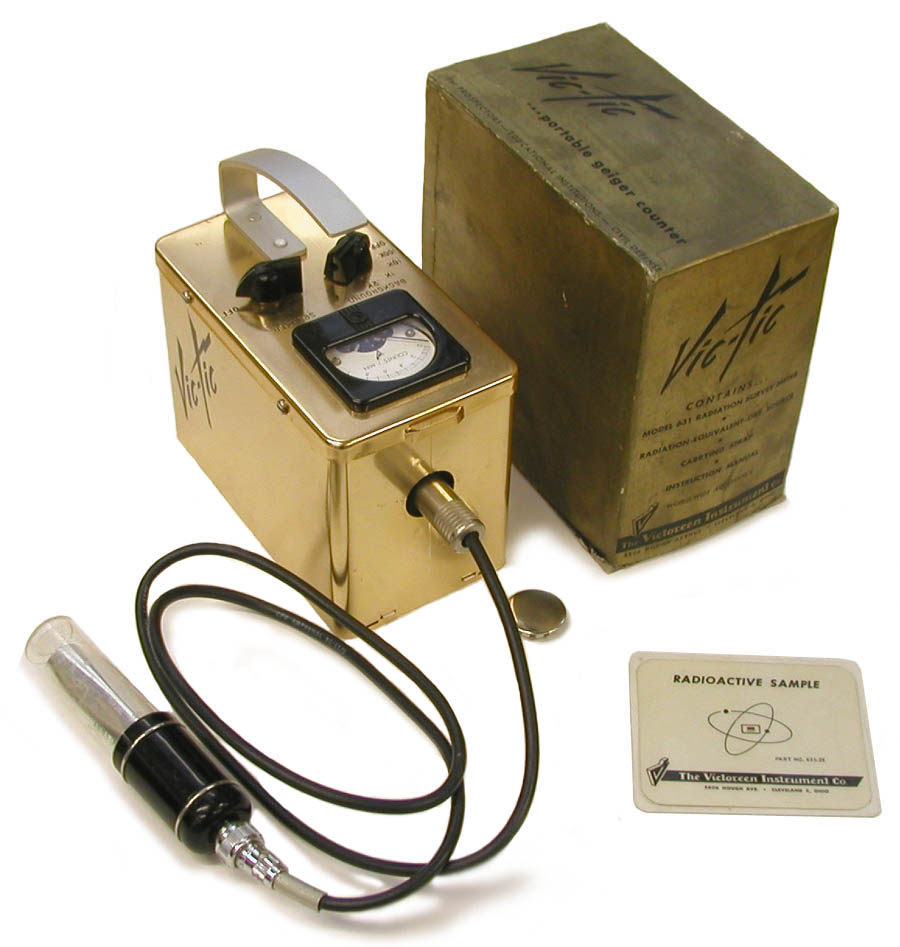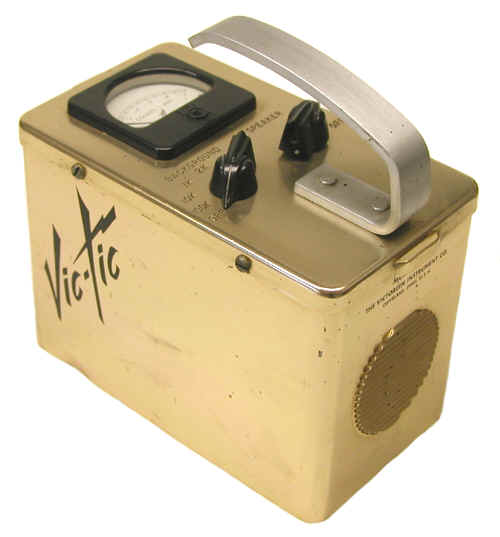 The Vic-Tic, manufactured by the Victoreen Instrument Co., was primarily intended for use where a heavy rugged instrument was not needed. Victoreen described its application as follows: "For vacation and part time prospecting, school science class." The detector was an aluminum walled GM tube (1B85) housed inside the gold colored case. It had two distinguishing features. First, it was small (6.5" x 4.5" x 3.5") and light (3 pounds). Second, it employed a transistor-amplified speaker (rather than headphones).
Three accessories were available for the Vic-Tic: an external hand-held GM probe that was plugged into a jack on the front of the case, a "deep hole probe" with 100 feet of cable, and what Victoreen referred to as the "Bismuth Six Pack," an assembly of six bismuth screened GM tubes that could be fastened to the bottom of the meter case.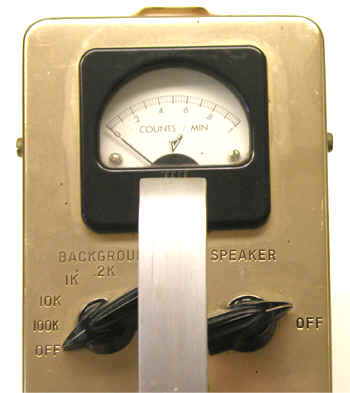 Detector: Thin-walled 1B85 tube on inside bottom of case with thin window in case. Optional external hand held GM probe.
Ranges: 0-1,000, 0-10,000 and 0-100,000 cpm, "plus an extra sensitive background range": 0-2000 cpm
Audio: Speaker
Batteries: One 1 1/2 volt, one 67 1/2 volt cell
Size: 6 1/2" x 3 1/2" x 4 1/2"
Weight: 3 lbs.
Price: $125 in 1955
Donated by the Victoreen Instrument Company.
References
Advertisement, Nucleonics January 1955, p. 57.
Victoreen Instrument Company Brochure. Portable Radiation Survey meters. No date.