Babbel Counter (ca. late 1940s, early 1950s)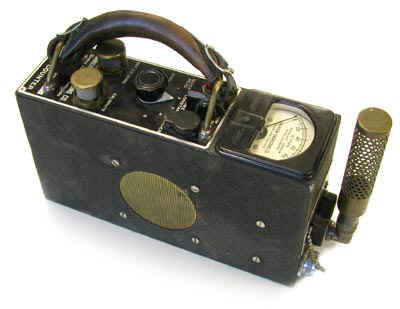 The Babbel Counter (Model 610) was a GM survey meter manufactured by the Uranium Engineering Company of Grand Junction Colorado. For what it is worth, the latter was originally known as the Mineral Engineering Company and their first version of the Babbel Counter was the Model 600. The label on the wooden instrument case that came with one counter read: "Manufactured by Gordon Babbel, Uranium Engineering Co." That the instrument was designed for uranium prospecting is indicated by the meter readout: "% e/U3O8 Equivalent Uranium."
It is very solidly made with lots of brass fittings (e.g., the probe and speaker grill).
I am fairly certain that the Babbel counter was produced from the late1940s until the middle 1950s - the paperwork with one of the two Babbel counters in the collection indicates that it was sold in 1955. A site visitor informed me that Babbel counters, rugged beasts that they are, are still being used as of 2006!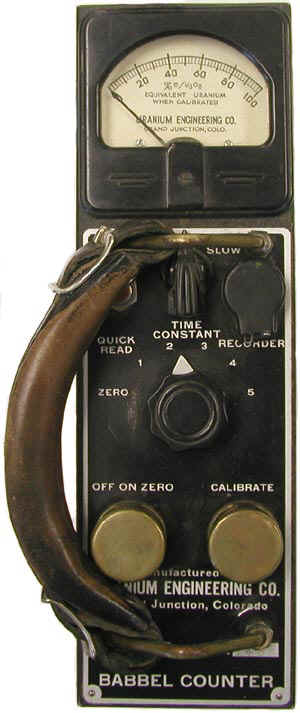 The front of the case has a connection for a "drill hole probe" that would be used for determining the vertical profile of the radiation levels in drilled geological strata. The meter has a connector for a strip chart recorder that could be used during these operations.
Detector: One 1B85 GM tube
Meter scale: 0-100% uranium equivalent
Size: 3" x 10" x 5.5"
Batteries: Three 1.5 volt D cells plus three 45 volt (Eveready 455)
References
Minerals Engineering Company. Operating Instructions for Model 600-B Mineral Counter.
Instruction Manual for the Babbel Counter Model 610. Uranium Engineering Company. No date except hand written notation: 1/26/55.