El-Tronics SGM-18A GM Survey Meter (late 1940s)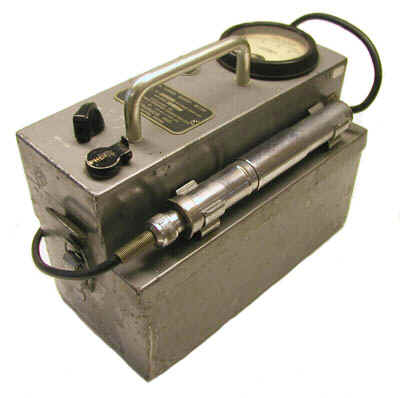 This is a GM survey meter manufactured for the Atomic Energy Commission in the late 1940s by El-Tronics Inc. of Philadelphia. The only model number on it is SGM-18A, a designation used by the Atomic Energy Commission. Volume IV of the military's Radiological Defense shows a picture of this unit and states that the El-Tronics model number is SM-3 and that the military designation is AN/PDR-26. The AEC's Radiation Instrument Catalog Number 2 (with a page date of July 1, 1950) shows the SGM-18B, but not the SGM-18A. A 1950 El-Tronics advertisement in Nucleonics for their Model PR-3, which is obviously the same as the SGM-18B, describes several "new" features. Although not stated as such, these features are in clear contrast to those of the older SGM-18A (aka the SM-3 or AN/PDR-26).

Range: 0-0.2, 0-2.0, 0-20 mR/hr
Size: ca. 4 1/2" x 9" x 6"
Output: No speaker but it has a phone jack
Batteries: This baby is packing a serious set of batteries—two 45 volt "B" cells, one 1.5 volt radio "A" cell, and three 300 volt cells
References
Atomic Energy Commission Radiation Instrument Catalog, Catalog No. 2, Part 2, page date July 1, 1950 , page SGM-18B.
Advertisement. Nucleonics, August 1950, page 97.
Campbell, D.C., Radiological Defense, U.S. Armed Forces Special Weapons Project, Volume IV, 1950.