Fisher M-Scope C-12 Geiger Counter (ca. 1950)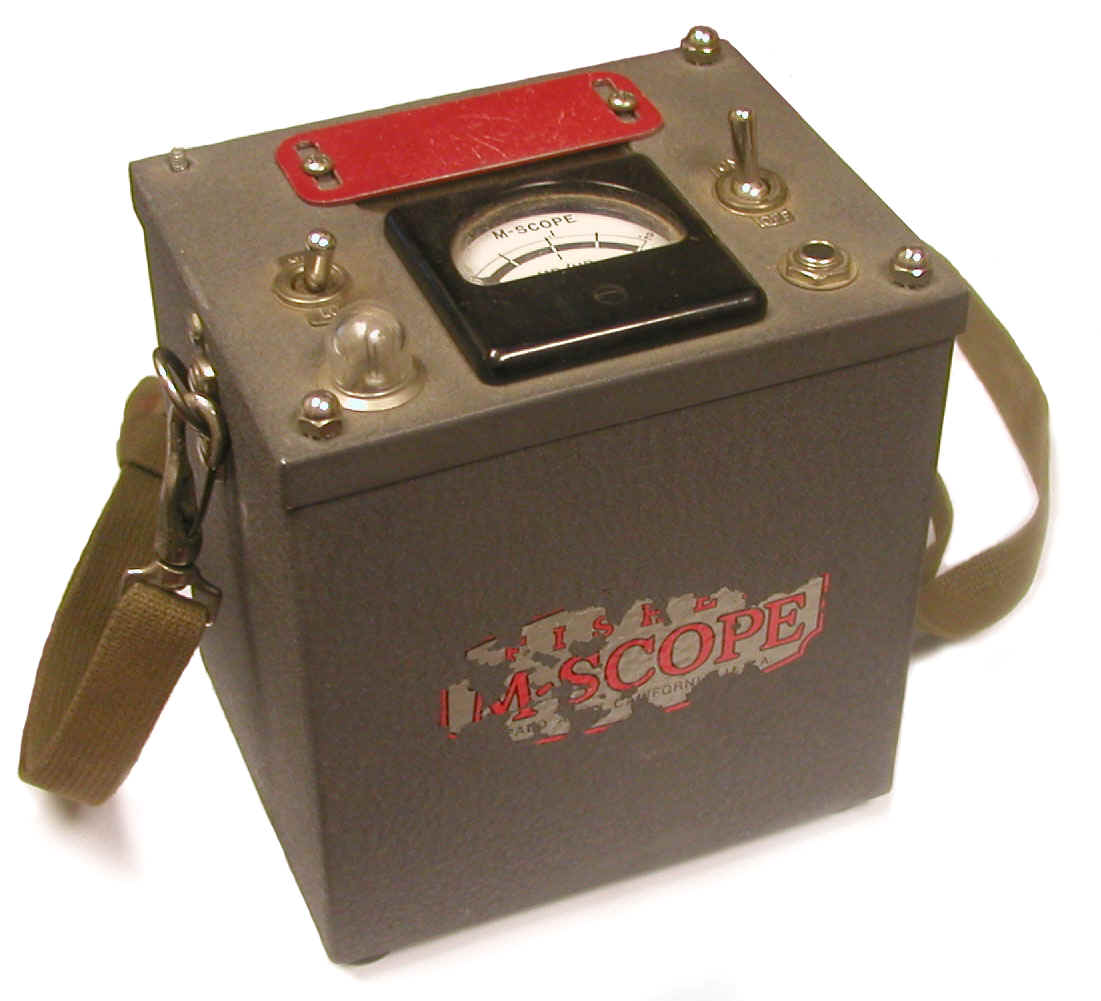 This instrument was manufactured, sometime around 1950, by Fisher Research Laboratory Inc. of Palo Alto California.
The only controls are an on/off switch (right side of photo to right) and a Hi/Lo switch (left side of photo to right) that changes the instrument range.
There is a flashing indicator light (lower left in photo) and a headphone jack.
The thin walled GM tube (Victoreen 1B85) is located towards the top front of the instrument case. The sliding red metal shield is intended to permit discrimination against beta particles.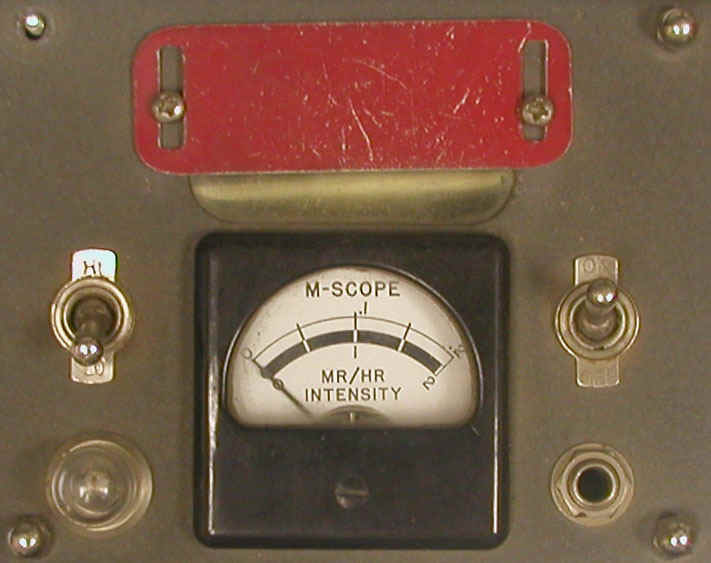 The earliest reference I have found to the Model C-12 is this announcement in the October 1949 issue of Nucleonics: "Survey meters for field and laboratory use now available are battery operated. Models C-12 and C-15 are equipped with headphones, flash indicator, and high-and-low-range ratemeters with ranges from 0 to 0.2 and 0 to 20 mR/hr. Model C-12 is equipped with an adjustable shield to allow exclusion of beta radiation from the internally mounted G-M tube. Model C-15 is equipped with a G-M tube installed in a separate prospecting stick 36 inches long. Weight of the instrument case is 5 lbs; the prospecting stick weighs 1 lb. Models C-12A and C-15A have the same specifications except that they are for use with headphones only."
According to the Atomic Energy Commission's Radiation Instrument Catalog, this device was intended for "detecting radioactive ores."
Detector: Thin-walled GM tubeinside case
Range: 0-0.2, 0-2.0 mR/hr
Batteries: Two 1 1/2 volt flashlight batteries and two 67 1/2 volt B battery
Size: ca. 5 1/2" x 4 1/2" x 6"
Weight: ca. 5 lbs
"M-Scope" seems to have been a generic name used by Fisher to describe their line of radiation detectors.
References
Model C-12 survey meter, Nucleonics October 1949 p 89.
AEC Radiation Instrument Catalog, page date July 1, 1950.
AEC Radiation Instrument Catalog No. 3. Page SGM-44A. July 1, 1952.
AEC Radiation Measuring Instruments, RIB-8 (supplement 2) July 1, 1954.