Fisher "M-Scope" (1946-47)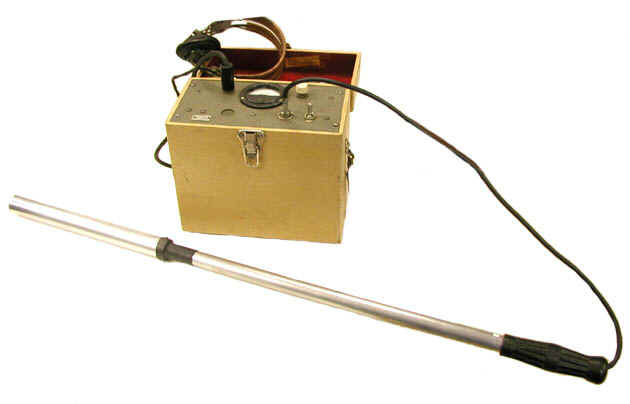 The M-Scope was manufactured by the Fisher Research Laboratory, Inc., of Palo Alto, California. Designed for uranium prospecting, it came with a shoulder strap and a GM detector at the end of a 36-inch "walking stick" probe. The latter eliminated the need to bend over to inspect ore and it made it easier to access hard-to-reach places. The wooden case which protected the electronics from rain and dust, had a hinged top that when opened allowed access to the controls.
The meter scale, which goes from 0-100 in arbitrary units, is unusual in that it reads from right to left with the resting position of the needle at 100. The only control, aside from the on/off switch, is the audio volume control.
Detector: Glass wall GM (clear glass and cylindrical copper cathode)
Range: One scale, 0-100 in arbitrary units.
Audio: Speaker and headphones
Size: 5" x 9.5" x 9.5"
Batteries: Two 1.5 volt and one 67.5 volt
Two mysterious aspects of the M-Scope are its name and the patent number (2,066,561), both of which are identified on a plate affixed to the lid of the box. The patent, issued to G.R. Fisher in 1933, is for a metal detector known as the "Metalloscope." My guess is that the company abbreviated this to "M-Scope" and for some unknown reason (probably a lack of imagination) decided to apply this term to a variety of their products including their portable radiation detectors. In the early 1950s, Fisher produced a very similar instrument that used a GM walking stick. This instrument, the Model C-16, was also referred to as the "M-scope" but it had a metal case rather than a wooden one like the "M-scope" in the collection.
This particular example was used by a prospector in the Maryville region of east Tennessee.
Donated in memory of Howard McCloud.