Nucleonic Company of America Model RM1 (ca. late 1940s)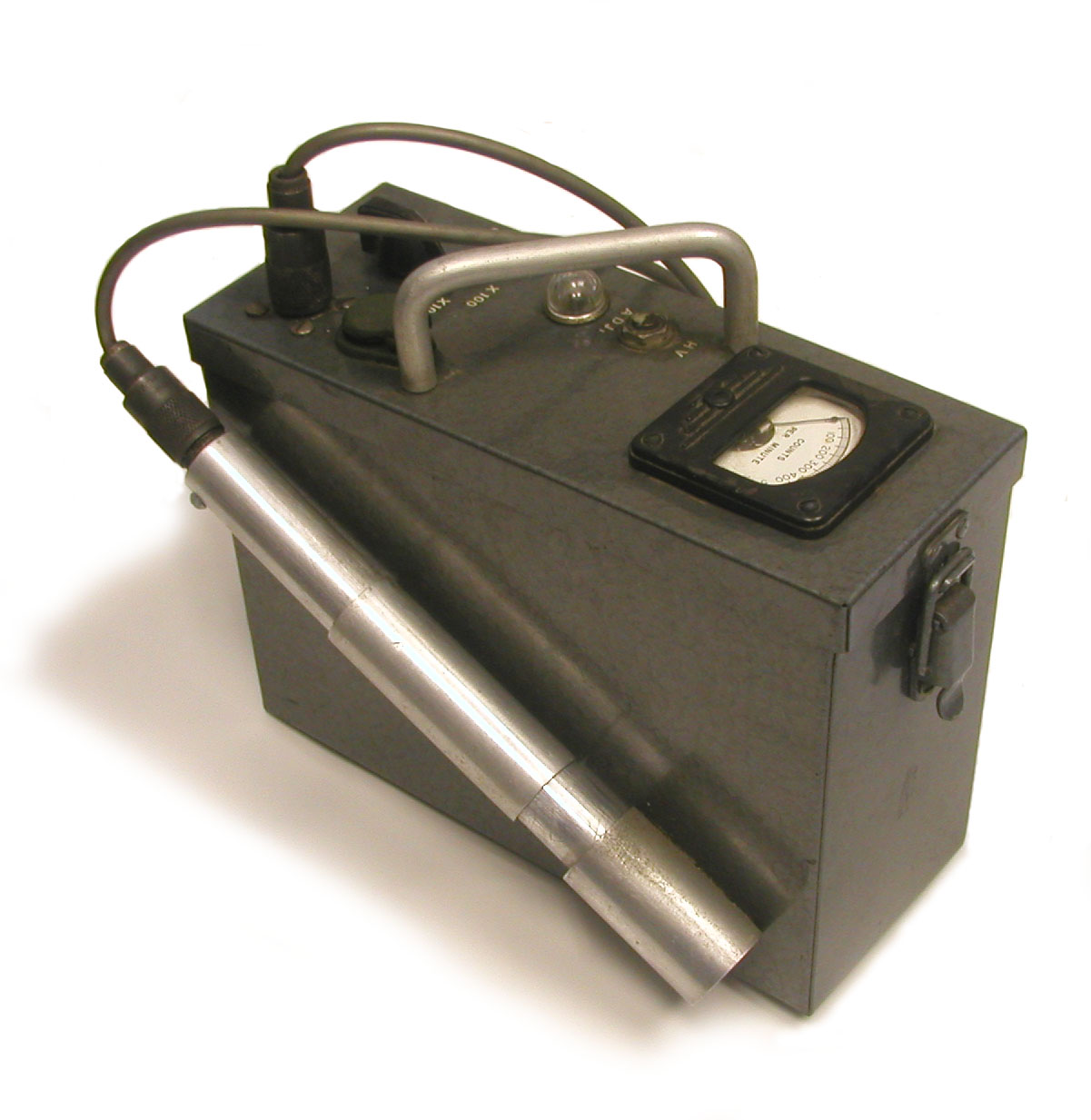 The Model RM-1 GM survey meter was produced by the Nucleonic Corporation of America of Brooklyn New York (they later changed their name to the Nucleonic Company of America).
The Atomic Energy Commission Instrument Catalog describes the Model RM1 as a: "Portable survey meter that can measure alpha radiation separately or simultaneously with beta and gamma radiation." How an end-window GM can measure alpha particles separately from beta and gamma radiation is beyond me.

The high voltage is adjustable from 400 to 2000 volts so that different probes could be used with the meter. A pilot light, just below the HV adjust in the photo, indicates when the unit is turned on.
Both the AEC Instrument Catalog and an advertisement in Nucleonics indicate that the RM-1 can measure radiation in cpm and mR/hr (0-0.2, 0-2.0 and 0-20 mR/hr) but this example has no mR/hr readout. Perhaps this is an early version of the RM-1 (it is serial number 112). The instrument pictured in the catalog is a little different in that the handle runs down the middle of the meter (not diagonally). In addition, the HV adjust and the pilot light are on the right side of the instrument rather than on the left.
Detector: End window GM tube
Range: 0-500, 0-5,000 and 0-50,000 cpm
Audio: No speaker but it has jack for headphones
Batteries: Two 1.5 volt, two 67.5 volt
Size: 3 1/2" x 9" x 6" (without handle or probe)
Weight: 7 pounds
References
Advertisement in Nucleonics May 1949 p 86.
Atomic Energy Commission Radiation Instrument Catalog, page SGM-31A date July 1, 1950.
According to a company brochure: "Nucleonic Company of America was founded and is headed by Dr. Benjamin Schloss whose experience with Geiger counters goes back to the early days of the Atomic Bomb Project at the Metallurgical Lab (University of Chicago). He was chief of an instrument group that developed Geiger counters for research that contributed to the development of the atomic bomb."