Tracerlab Model SU-10 (ca. 1949-1955)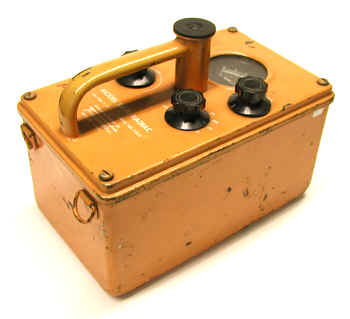 The SU-10 in the accompanying photographs was manufactured by Tracerlab Inc., of Boston Massachussetts, a company founded by Bill Barbour in 1946. It was a commercial version of the RADIAC AN/PDR-T1B, an ionization chamber built to military specifications. As such, the SU-10 was waterproof and designed to operate under extreme environmental conditions. By most standards it was large (11" x 7" x 9") and heavy (11 pounds).
The ionization chamber, located inside the case, was box-shaped and had polystyrene walls that were made conductive with an aquadag coating on the inside. The walls served as the anode while a central wire bent into a rectangular shape served as the cathode.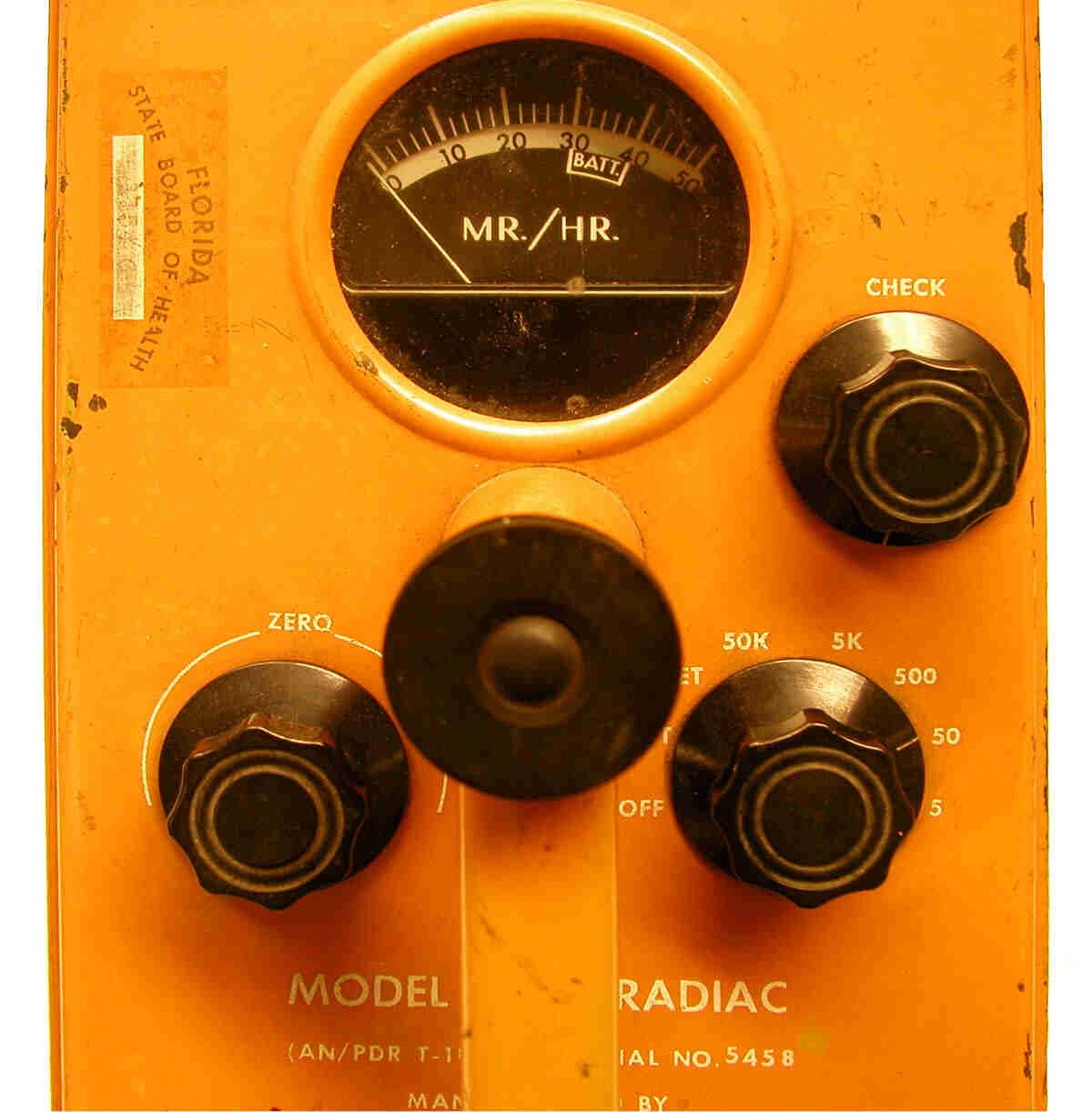 Aside from its bright orange color, the most distinctive feature of the SU-10 was its method for changing scales. The switch for changing the scales was connected (by a chain much like that used on a bicycle) to a wheel underneath the meter face on which the different scale ranges were indicated. Each range was indicated in a unique color. When the range switch was turned, the wheel to which it was connected also turned. This caused the range seen on the meter face to change.
The SU-10 had five selectable scales: 0-5 (green), 0-50 (white), 0-500 (yellow), 0-5,000 (orange), and 0-50,000 mR/h (magenta). The meter face could be illuminated by a light that was activated by the circular black button on the tip of the handle. The instrument Instruction Manual noted that Tracerlab was developing a more suitable instrument, "for survey operations immediately following an atomic attack," that would be capable of measuring up to 500 R/h.
When desired, a built-in check source could be activated by the control knob just to the right of the meter face.
References
Advertisement, Nucleonics March 1951, p. 95.
Tracerlab Inc., Model SU-10 RADIAC Set Operating Instructions, October 1952.