Siemens Multix Protective Housing with Water Cooling Assembly (ca. 1930s)

The Multix was an early protective X-ray tube that was manufactured by the German company Siemens. "Multix" sure sounds a lot like "Metalix," the name used by The Philips/Muller company for an almost identical tube. As is true for the very similar Metalix (Philips) unit in the collection, the tube inside the housing is broken. All that remains, aside from the tube's metal components, are a few broken bits of glass rattling around inside the case.
The spherical metal chamber at the left end of the tube (as seen in the photo) held water—this was a water-cooled tube.
Quoting an advertisement for this tube from 1931: "No radiologist using the powerful X-ray units of today can afford to neglect the question of protection—against not only primary but also secondary radiation. Nearly 2 mm of lead protects you against secondaries whilst over 2 1/2 mm. lead shields the primary source."
This is what is known as a twin focus tube because there are two filaments. Surprisingly, the filaments are concentric spirals rather than elongate coils. One filament would be used if a fine focal spot were needed while the other would be used if a coarse focal spot were desired. As the advertisement noted, you got "two in one."
The next quote (taken from Mould 2014) is from W. E. Schall (1932) describing the advent of self-protected tubes: "The spherical bulb which had become the normal in an X-ray tube had given place to a long glass cylinder, the middle of which is surrounded by a short cylinder of brass or steel, lined with lead. In this short cylinder is a small opening through which X-rays emerge. The ends of the glass cylinder which project beyond the middle metal cylinder are encased in sleeves of insulating material: either Bakelite or porcelain. These self-protected tubes exist in a variety of designs and makes for different purposes."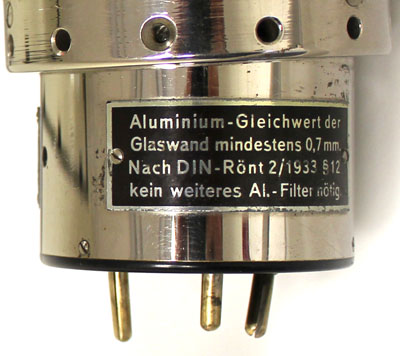 I will hazard a guess that the text on the end of the tube (image to right) indicates that the attenuation of the x-rays due to the glass wall of the tube is approximately equivalent to 0.7 mm of aluminum.
Another label (not shown) indicates that the tube has a power rating of 45/130 kilowatts.
Size: ca 24" long, 2.5" in diameter
References
Advertisement. British Journal of Radiology. Vol. IV. No. 41. May 1931.
Schall, W.E. X-rays Their Origin, Dosage & Practical Application. 4th ed. John Wright & Sons. 1932.