Model BM 20020/10 Cambridge Pocket Dosimeter (ca. 1950s, 1960s)
I have no information about this particular dosimeter other that the fact that it was manufactured by the Cambridge Instrument Company, Inc. of New York City, and that it reads up to 10 R. The barrel is 4 1/8" long, 1/2" in diameter, and made of aluminum. The serial number is 153. Since the 1954 supplement to the AEC's Radiation Measuring Instruments catalog refers to the Cambridge 20013 series of pocket dosimeters, the model 20020 was probably introduced sometime in the following decade.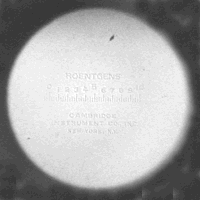 The scale is somewhat hard to read on this unit. The top line is "Roentgens." Below that is the scale running from 0 to 10 and below that it reads "Cambridge Instrument Co. Inc., New York, N.Y."
Donated by Ron Kathren.