RCL Mark 2, Model 1 Proportional Counter (1950s)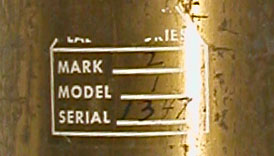 This is a BF3 thermal neutron detector produced by Radiation Counter Laboratories (RCL) of Skokie, Illinois.
The brass chamber is approximately 18 1/2 inches long, 2 inches in diameter, and weighs 3 pounds. The ends are coated with a soft plastic for protection (this was probably done by the user rather than the manufacturer). The operating voltage (1400 to 3200 volts) would have depended on the fill gas pressure—the higher the pressure, the higher the operating voltage.
The RCL detector designation is the Mark 2, Model 1, Serial 1347. The Model 1 is enriched to 96% boron-10 whereas the Model 2 would have employed natural (20%) boron.
Donated by Ron Kathren.
Reference
U.S. Atomic Energy Commission. RIB-8. Radiation Instrument Catalog No. 3. July 1, 1952. page BP-A5.