General Electric "Universal" X-ray Tube (ca. 1926-1935)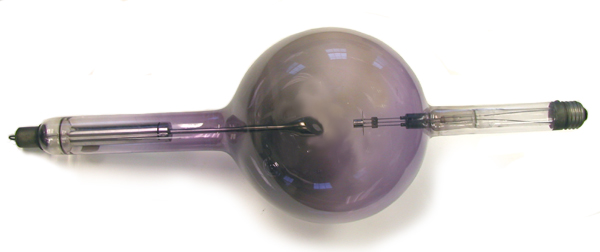 This "Universal" Coolidge tube was manufactured by General Electric, probably in the late 1920s or the early 1930s. The last patent date on the tube was January 1917.
The shape of the cathode filament (photo to left) indicates that this is a fine focus tube. The filaments for the fine focus tubes were flat spirals like this one while those for the medium and coarse focus tubes took the form of a slightly conical spiral. The fine focus tube, like the medium focus tube, was intended for general radiographic work. 
The maximum high voltage for which it was rated would have been approximately 100,000 volts—this would be more or less equivalent to a 6" spark gap. The maximum rated current would have been approximately 25 milliamps for a 20 second exposure.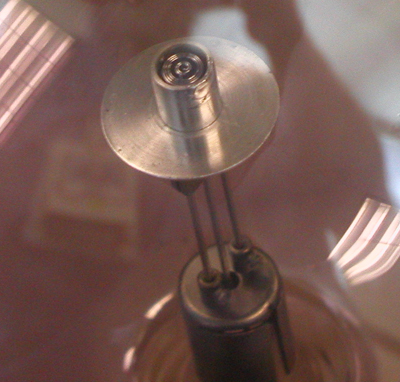 Size: 20" long, 7" bulb diameter
The text etched onto the anode arm reads:
"Pat'd Nov 8,'06, Jan 31 '11,  Feb 27 '12  Dec 30 '13  May 18 '15  Oct 31 '16  Jan 2 '17.  Patents Pending.  This tube is not licensed to be re-exhausted or repaired, nor is the metal  therein contained licensed to be used except in this particular tube.  General Electric Co. Schenectady N.Y. U.S.A." 
What perplexes me is that the last patent listed on this GE tube, Jan. 2, 1917, is the penultimate patent etched on the collection's Universal tube that was manufactured by Victor X-ray. Although very hard to make out, the last patent date on the Victor tube seems to be October 1923. Normally, I would have expected the Victor tube to be older than the GE version, but the patent dates don't seem to support this assumption.