Pancake GM Tubes (ca. 1960s)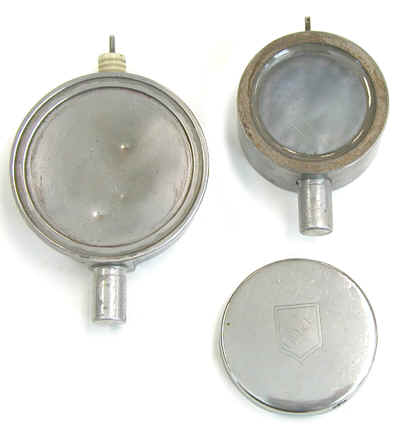 The smaller (1 5/8" diameter and 3/4" thick) of these two pancake GMs (the one on the right side of the photograph) was manufactured by Lionel Electronic Laboratories, a division of the same company that made toy trains. Lionel got into the nuclear business in 1960 when it purchased Anton Electronics Laboratories. A shield with "Lionel" running diagonally across it is stamped on the tube's protective cover (lower right). Anton's company logo had been the same except that the name "Anton" ran across the shield.
The side of the tube is marked "LIONEL 1007T 6435." The 1007T probably refers to the model number—Anton had produced a similar detector, the Model 1001. The mica window, ca. 1.5 mg/cm² thick, is coated with metal.
The larger tube on the left (2 1/8" diameter and 1/2" thick) has no markings, but the general construction indicates that it was manufactured by either Anton or Lionel. The window appears to be steel.
Read more about Lionel's ill-fated venture into the nuclear business.