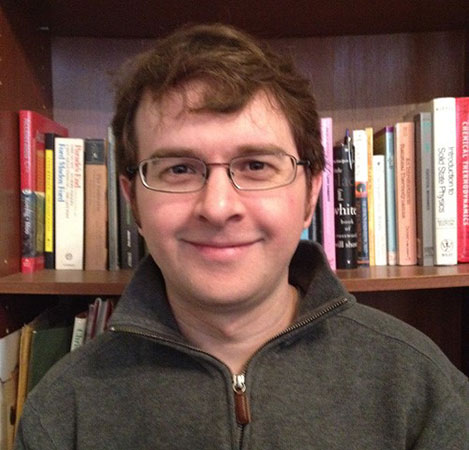 Finding interest and enjoyment in science as he attended a high-school chemistry class, Dr. Brian Barnes recalls, he began to realize the potential impact this field could have on his future and career.
A native of St. Louis, Missouri, Barnes turned his visions into reality by first receiving a bachelor's degree in chemistry from the University of Texas at Austin. He then went on to receive a doctorate in physical chemistry from Washington University in St. Louis.
After receiving his doctorate, Barnes served in his first postdoctoral position at the Colorado School of Mines in the Department of Chemical and Biological Engineering's Center for Hydrate Research.
"While I was initially interested in experimental organic chemistry, I transitioned to computational physical chemistry after some undergraduate research experience," Barnes said. "Seeing an electrostatic potential isosurface around an organic molecule—that I created on a computer using a quantum mechanical method—for the first time was amazing. My doctorate work and first postdoc mostly involved simulations having many molecules, using the tools of statistical mechanics."
Barnes is currently a U.S. Army Research Laboratory postdoc computational researcher working in the Lethality Division's Energetic Materials Science Branch at Aberdeen Proving Ground, Maryland. His ARL mentor is Dr. John Brennan.
Barnes is involved in research efforts that are tied to multiscale reactive modeling of energetic material response.
"Our branch is in the Lethality Division, and we're focused on increasing explosive and propellant performance for the warfighter, which involves creating and characterizing novel materials and being able to accurately predict their physical properties and performance in large-scale applications," Barnes said.
Specifically, Barnes works on the predictive effort.
"If we can accurately predict detailed physical responses of energetic materials to insult over length and time scales that span many orders of magnitude, then we can help the warfighter through the improved and accelerated design of new materials or weapon systems," Barnes said.
The flagship project Barnes is working on is a collaborative endeavor involving hierarchical multiscale simulation and dissipative particle dynamics to predict the physical responses of energetic materials.
Through his work on these projects, which involves a significant amount of continuum-scale simulation, Barnes was able to attend Arbitrary Lagrangian-Eulerian 3D, more commonly known as ALE3D, training at the Lawrence Livermore National Laboratory in California, which leads the nation in stockpile science and works to deliver solutions for the nation's most challenging security problems. What Barnes enjoys most about ARL is the collaborative culture the lab facilitates.
"Collaborating with experienced professionals whose daily efforts involve active research, and not teaching or searching for post-university positions, is a real culture change from academia that I appreciate at ARL," Barnes said. "There are also opportunities to work regularly with people who wouldn't be in your same academic department. That can be rare for young investigators in academia, and it's a nice change of pace. ARL is really about the quality of people you interact with each week."
Looking to the future, Barnes hopes to remain at ARL, as he believes the lab and the Department of Defense as a whole offer researchers like himself opportunities that cannot be found anywhere else.
"It's especially nice being a part of the DOD and Department of Energy community as a computational researcher, due to the quality and quantity of supercomputing resources available. I enjoyed teaching, but ARL and the DOE labs seem like better work environments than the typical academic department," Barnes said.
Barnes' inspiration for the work he does each day has to do with both the Army mission and the collaborative culture that exists at ARL.
"First, I believe in my research for its contributions to both basic science and the Army mission. I'm fortunate to have a good lead project in that regard. It's also just fun to see each new result. Second, our branch has a culture of collaboration and strong team leaders, so you never know what you're going to miss if you're not around," Barnes said.
After many years in academia, Barnes has extensive knowledge and advice to share with individuals from younger generations who are interested in a career in science, technology, engineering, or mathematics.
"Become knowledgeable of statistics and using computers to do basic scripting in Python (or R). My undergrad and grad school curriculum did not require a semester in pure statistics, although some exposure is inevitable when writing undergrad lab reports or studying statistical mechanics for your doctorate," Barnes said.
He added that fluency in statistics and an open source programming environment to calculate them has been the most valuable "optional" skill set he has acquired as his career has progressed.
"These skills are useful across every single traditional STEM [science, technology, engineering, and mathematics] discipline, hot fields such as 'data science' and sciences outside the natural sciences such as the social sciences. I want to continue to improve my skills in this area. The challenge is that doing statistics exercises can be dreadfully boring if you don't have something fun motivating you," Barnes said.
Barnes added that despite a student's high-school and early college experience—where test scores and end-of-semester grades may determine academic reality—the phrase "it's not what you know, it's who you know" does still apply to the real-world job market.
"Strive to make meaningful connections with your peers and mentors and understand what's important from their perspective. Put in the effort to keep in touch after you each move on in life. Seek out internship opportunities. You'll probably enjoy things more along the way," Barnes said.
Outside the lab, Barnes enjoys reading science fiction, playing video games, watching shows including "Parks and Recreation" and "True Detective" with his wife, listening to podcasts such as "99% Invisible," playing fantasy football (Go Bears!), learning new computer-programming tricks and walking his dog, a Jack Russell mix.