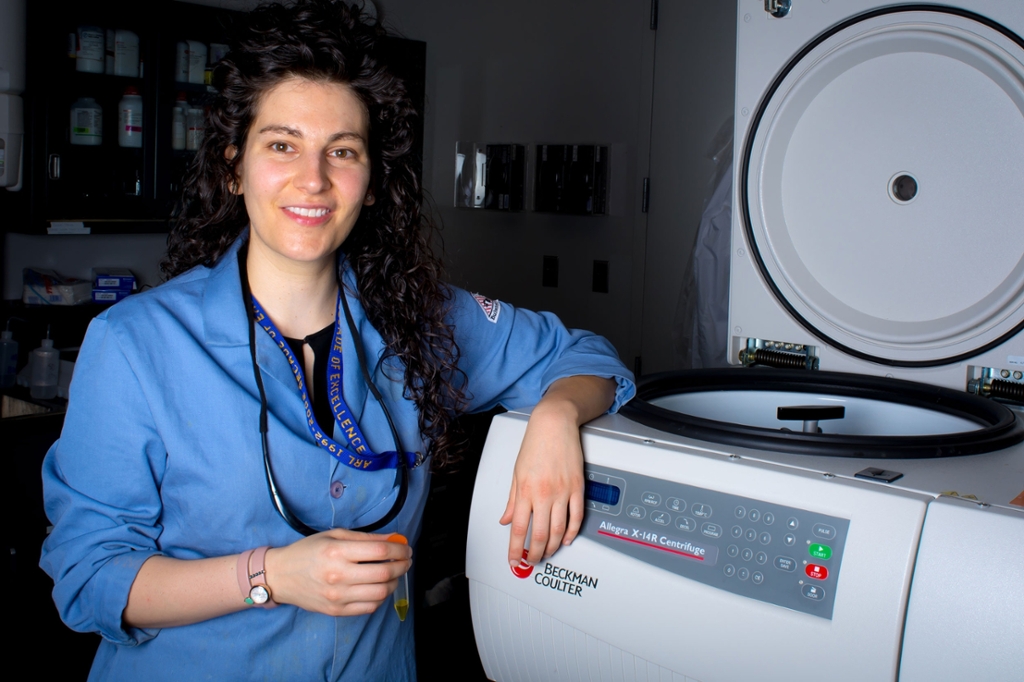 With a passion for biochemistry, U.S. Army Research Laboratory Chemist and Postdoctoral Research Fellow Dr. Sasha Teymorian works to further the knowledge and technologies of our country, all while helping to protect Soldiers on the battlefield.
Teymorian works in ARL's Weapons and Materials Research Directorate at Aberdeen Proving Ground, Maryland, where the goal of one of her current projects is to aid in the identification of cellular injuries sustained by warfighters in combat.
"One of the projects I am working on is the synthesis of gold nanoclusters conjugated to various proteins," Teymorian said. "These bio-stabilized gold nanoclusters exhibit interesting fluorescent properties, and I am working to understand how various external factors such as changes in temperature and pressure influence their fluorescence."
Teymorian noted that this project is an investigation of the fundamental structure and stability properties of the nanoclusters; how the protein is "wrapped" around the nanocluster brings different properties to the table.
"I am interested in how these clusters interact with cells in the human brain and body," Teymorian said. "The goal is to understand the fundamental structure properties of bio-stabilized clusters and generate sensors to aid in the identification of cellular injuries sustained by warfighters."
According to Teymorian, materials that exhibit properties that can be tuned by tailoring electronic and physical structures are crucial to the development of Army-critical devices and components that are composed of materials that are light-weight, have low-power consumption and are multifunctional.
"Nano-scale materials offer novel optical, electrical and thermal properties, which can be utilized to develop an array of new technologies including sensors, electronics, and energy storage and conversion devices," Teymorian said.
However, according to Teymorian, these engineered nanomaterials do not attain the novel and robust properties of biological, or "natural," nano-scale materials.
"By creating a hybrid nano-bio system, new functionalities which are unattainable separately are observed," Teymorian said. "To further advance bio-nanotechnology for Army needs, the fundamental properties of these bio-nano hybrid systems must be further understood and optimized for a variety applications including nano-scale electronics, antennae, and lightweight and robust sensors."
The technology developed could play a vital role in remote physiological monitoring and sensing of warfighter injuries on the battlefield.
Teymorian began her career in science by first receiving her bachelor's degree in chemistry from the University of Wisconsin in 2009. From there, she went on to the University of Illinois at Urbana-Champaign to work towards her master's degree researching botulinum neurotoxin. "I enjoyed the bench work, but I really wanted a deeper understanding of the chemistry I was doing," Teymorian said.
After leaving UIUC, Teymorian joined Michigan Technological University and received her doctorate in chemistry in 2015.
While at Michigan Tech, Teymorian was involved in various research projects including the structural investigation of different phosphorylated inositol (a cyclic alcohol with six hydroxyl groups, one at each position of the ring) derivatives by Nuclear Magnetic Resonance (NMR) Spectroscopy and Mass Spectrometry.
These derivatives are compounds that are important in the chemistry of the brain, cell differentiation and growth, and apoptosis, or programmed cell death.
Teymorian was a part of the only research group in the United States using NMR on this class of compounds. Teymorian is truly passionate about her work, which is fueled by her fascination with science and the inspiring environment that she said ARL facilitates.
"I have always been fascinated with the chemistry of life," Teymorian said. "The beautiful and complex chemistry in living cells is absolutely amazing."
Teymorian noted that the interactions with her coworkers are what she enjoys most about pursuing her passion at the laboratory.
"My expertise is in a different field than many of the individuals I interact with on a daily basis, and discussing research interests with them has helped me to see my projects through different lenses," Teymorian said. "I feel like I belong to a team; we are all invested in each other's personal success and the success of our projects."
Short-term, Teymorian is seeking to complete the characterization of the bio-stabilized gold nanoclusters and in vivo analysis, and publish the results. Long-term, she is hoping to use her background in biochemistry to develop new protective equipment, devices and sensors that work with the human body to protect our Soldiers.
Outside the lab, Teymorian enjoys reading, painting, cooking, gardening, running and sports (especially soccer), and playing piano.
"I recently started taking cello lessons and it is a lot of fun, although my neighbors may choose another word to describe it!" Teymorian said.
Teymorian also works with her local library for their science demonstrations and groups for children and local Girl Scout troops, and provides chemistry and math tutoring for local high school students.
"I like to meet new people and hear about the paths they have traveled on," Teymorian said.
If there is advice that she could offer to younger generations who are interested in a career in science, technology, engineering and mathematics, or STEM, it would be:
"Every day of your life will be an adventure. The possibilities with STEM are truly endless. My advice would be to study hard, work hard, imagine, never stop asking how and why, and—I cannot stress this one enough—never be afraid to fail. That fear will only hold you back!" Additionally, Teymorian encourages students to find a mentor who shares their passion for STEM, as they can guide them through the STEM network and help them develop their skill set.